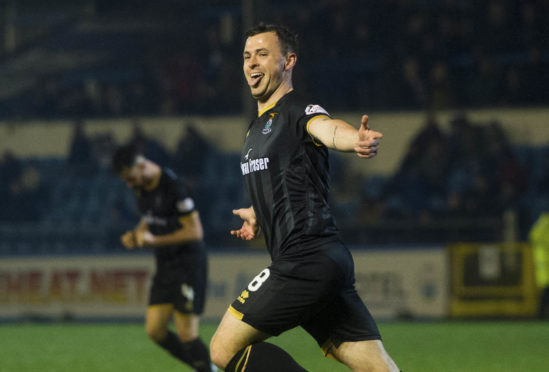 Former Caley Thistle winger Darren McCauley has opened up on his regret at leaving Inverness last summer.
McCauley joined Caley Jags from Northern Irish side Coleraine last January, making the step up from part-time football while he was in his final year of a nutrition degree at Ulster University.
After struggling to combine the two while in the Highlands, McCauley took up the offer of returning to hometown club Derry City last June.
Despite finding game time limited for John Robertson's men, McCauley feels he rushed his decision to return home and believes he could have proven himself with the benefit of a full pre-season.
McCauley said: "Combining my degree with football was really stressful. Things just got too much for me mentally.
"With not playing in the team at the time, it was something I wasn't familiar with.
"By the end of it I was just overwhelmed by a bit of negative emotion, and I let it get the better of me.
"When I look back, I realise I could have been a lot more patient. I could have perhaps got a good pre-season under my belt, and came back for a fresh season as I had two years left on my contract.
"I realise now I should have stayed at Inverness and given it a proper go, because I think I had the potential to do well there.
"The club and John showed a lot of faith in me, and unfortunately I'll not get to repay it."
The realisation he had made a mistake dawned on McCauley early on at Derry, which prompted him to end an unsuccessful second stint at Brandywell to move to Australia in November.
McCauley says his departure from Inverness has remained on his mind since, adding: "When I went back to Derry, mentally I realised I had made a mistake in leaving Inverness.
"I couldn't really recover from that – I just fell out of love with football.
"I didn't feel the desire because of that reason. Inverness were still in the back of my mind, it was still hurting me that I didn't prove myself, and didn't help the club as much as I could.
"It was the first time I had left a contract early – that hurt me as well."
Although McCauley did not intend on playing football in Australia, he later signed for Victoria-based side Essendon Royals in February.
With the season on hold due to coronavirus, and McCauley's visa due to expire in November, he insists he would not rule out another crack at Scottish football.
He added: "I don't think it's beyond me, it's something I would definitely consider.
"If the opportunity came again I would give it a proper go. For now it's so far down the line I don't know what's going to happen."
McCauley would sing ICT's praises to other Irish players
McCauley would not hesitate in recommending Caley Thistle to fellow Irish players looking for a move to Scottish football.
Although his own spell with the Highlanders only proved a brief one, McCauley says he would be happy to point players from the Emerald Isle in the direction of Caledonian Stadium.
McCauley said: "I hope me leaving the club did not deter anyone from trying it out.
"I will certainly be recommending Inverness to other Irish players north and south of the Irish border.
Even though I was only there for a short time, it's still an opportunity I think Irish players should take.
"You've got the likes of Aaron Doran, who has made a fantastic career there, he's a fantastic talent.
"I'm sure many other players from Northern Ireland and the south should take the opportunity to try the Scottish Championship – because it's worthwhile."
On his own arrival and performances at the Caledonian Stadium, he added: "At the time I wanted to go to Inverness. I was happy to go and these opportunities don't come around too often for a 27-year-old part-time footballer.
"It maybe would have been easier if I had waited until the season was over at Coleraine, but I think you have to take these opportunities when they come. I'm glad I took it when the opportunity came. I got a goal on my home debut against Partick Thistle, and I got one against Morton.
"I showed little glimpses, but I don't think I ever showed what I could do. Coming to a new team there's always an adjustment period, where you are expecting to be out of the team.
"Coming from part-time football, that's something I was expecting.
"I think coming back after a good pre-season, I think I could have established a first-team spot and it would have been a good experience.
"I didn't do that, so that opportunity didn't happen because of my decisions."
McCauley has praised Caley Jags for the way they handled his departure, adding: "The manager John Robertson and chief executive Scot Gardiner were fantastic with me. They were sad to see me go.
"It was a decision I thought was best for me at the time, but in retrospect I think I should have given Inverness a proper crack.
"I hope the club can do well and get promotion."