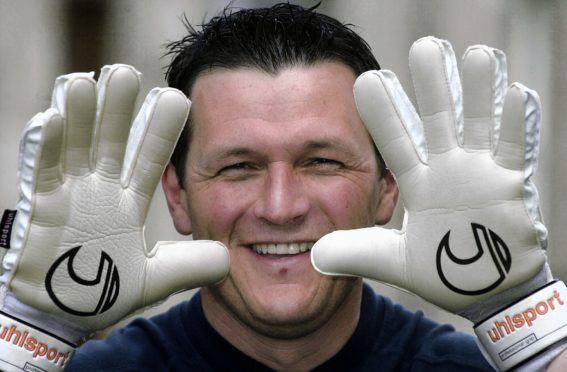 It's a peaceful spring morning on a golf course in Inverness when the sound of Jim Calder's mobile pierces the silence.
It's a familiar voice on the other end of the line.
"I can't believe I'm asking this," the voice laughs. "But can you play tomorrow?"
Jim might have been 46 but the offers from football clubs looking for a safe pair of hands hadn't stopped rolling in.
"Every second week I was getting phone calls," he said.
"I was semi-retired but I ended up playing for around six different teams that year."
It was a tiring business but it was his old gaffer Steve Paterson on the line. In his hour of need, it was an offer he couldn't refuse.
By 2007, the legendary former Caley Thistle boss had pitched up at Peterhead and an injury to goalkeeper Ian McCaldon left him in a sticky situation.
"It was just for one game and then to sit on the bench for a few at the end of the season," Jim said.
"I couldn't say no."
And so, at the age of 46 years and 245 days, Jim broke a Scottish league record by appearing between the sticks for the Blue Toon in their 2-2 draw at home to Ayr United on March 31, 2007.
It brought the curtain down on three decades of semi-professional football.
And it certainly wasn't the only time Jim bailed a manager out.
Outfield
Jim Calder has two very different memories of trips to Celtic Park as a player.
His second, as a 39-year-old in February 2000, helped cement his place in Caley Thistle folklore.
Steve Paterson's Highlanders stunned the Glasgow giants with a 3-1 victory that sent the club stratospheric.
It brought worldwide media attention and Calder certainly underestimated the clamour around him and his teammates it would cause.
The day after the famous win, he popped out to his local shop in Grantown for milk and it took him an hour and a half to get home.
He nearly missed out on the fun altogether.
Paterson preferred Les Fridge in goal for most of Caley Thistle's matches in 1999-2000, restricting Calder to just 12 appearances.
The life of a backup goalkeeper can be a lonely one and Calder was on the brink of a loan move to local side Strathspey Thistle at the start of February 2000 to sharpen up.
But an injury to Fridge threw a spanner in the works and set Calder for his date with destiny.
He said: "We didn't have a reserve team at the time, so I was just about to sign for Strathspey Thistle on loan, a junior team local to me at the time, to get some games.
"The day I was signing I got a call and was told 'don't sign, you're playing on Saturday'."
A solid performance in a comfortable win at Airdrie followed and three days later, Inverness dumped Celtic out of the Scottish Cup.
Calder put in a man-of-the-match performance against Aberdeen in the next round of the cup as the Dons denied ICT a second successive SPL scalp with a late equaliser.
The keeper injured his groin in the dying moments of Aberdeen's 2-1 win in the replay and with that, his whirlwind season came to an end.
Six of the best
Recalling the pre-match tension in 2000, Calder said: "I would have been quite happy to come off that park with a 3-0 defeat.
"I would have accepted that before the game."
This feeling was not purely based on the fact John Barnes' team that day included names like Mark Viduka, Eyal Berkovic and Lubomir Moravcik.
It was also that on Calder's only previous trip to Parkhead, his side were on the wrong end of a 6-0 doing.
Back in 1985 though, the circumstances could hardly have been more different.
Not only was Calder not in goal that day for Thistle, he wasn't even a goalkeeper full stop.
Instead it was his future rival for the gloves at Caley Thistle, Les Fridge, who was left to pick the ball out of the net six times.
Fortunately, the experience didn't seem to scar the 16-year-old as Fridge moved on to Chelsea later that year.
Calder, who was playing as a striker in those days, came on as a substitute with the game dead and buried and found little joy.
Shortly after, he was sidelined with a knee injury for six months and when finally fit to play again, he found himself back in amateur football.
"I was playing outfield for three years with Thistle, but I wasn't good enough to play up front in the Highland League," said Calder.
"I didn't have the fitness or the pace. I was a good amateur striker, scored plenty of goals there, but the Highland League was a big step up, a lot quicker."
Had the goalkeeper for Calder's amateur team in Grantown not turned up one week, things could have been very different.
His manager asked for a favour, Calder agreed to help out and he never looked back.
"It was a mistake that I ended up in goals but I did always fancy it," he said.
"When I was a kid I remember battering a ball against a stone wall. It was uneven so it would come back in different directions.
"I guess it turned out to be good training for it. One week our keeper didn't turn up, I said I'd help out and I went in goals ever since."
Some solid showings brought him to the attention of his former club and after he rejoined Inverness Thistle in 1986, he never looked back.
Life now
Calder's eight years at Caley Thistle yielded two promotions and two supporters' player of the year awards in 1995-96 and 1997-98.
He also stopped an astonishing 15 out of the 30 penalties he faced in ICT colours.
One thing that set him apart from many of his teammates who stayed with Caley Thistle on the journey up the leagues was his part-time status.
Calder was 36 when the Highland club went full-time and had his own career in the building trade.
"I was happy enough," he said. "I had my own job, so it was two wages coming in, it paid for the holidays.
"I'd train at night and take one day off at work each week. Rather than have a break at Easter, I'd work and then use 10 half-days to train.
"I lost on a few holidays but I was playing football, getting paid to do something I love.
"When Les (Fridge) came in and was full-time, I said to Steve Paterson 'I can't compete with that', but he said 'don't worry about that, we know what you can do'.
"I know he had his problems but he was a great manager."
Like everyone, Calder and his family have had their worlds turned upside down by the coronavirus pandemic.
A planned trip to Florida with his wife to celebrate his recent 60th birthday was shelved, while his job was put on hold for three months.
Some semblance of normality resumed once he went back to work but it's taken some adjusting to.
Calder's long career in the building trade and decades as a goalkeeper means it's no surprise that he's good with his hands.
Odd jobs around the house have been keeping him busy and his son James and daughter Hayley have been taking advantage of having their dad nearby to take a loan of his skills.
Calder said: "Lockdown has been strange but we've been doing OK.
"The garden is spotless and I've got all the moss off our roof, so it's not been all bad."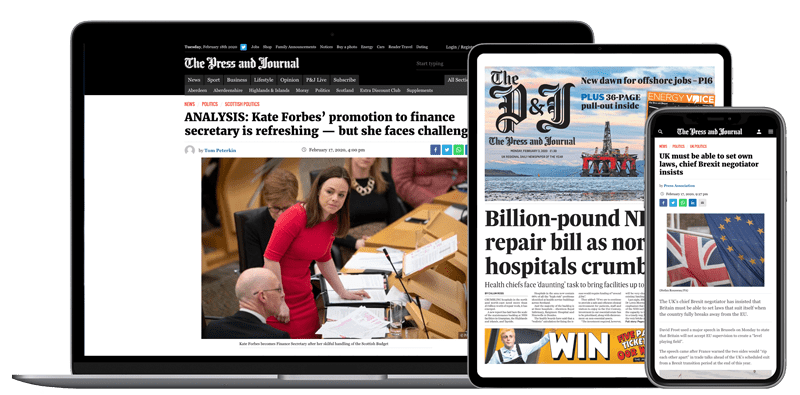 Help support quality local journalism … become a digital subscriber to The Press and Journal
For as little as £5.99 a month you can access all of our content, including Premium articles.
Subscribe