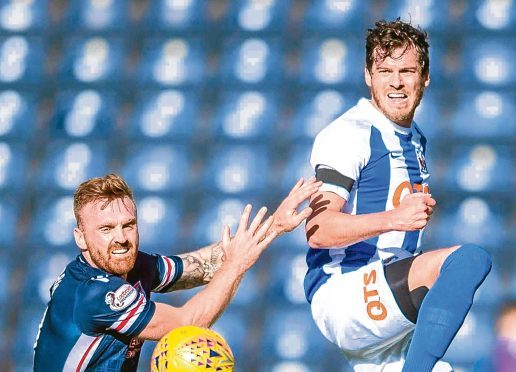 Craig Curran concedes the swift appointment of Owen Coyle at Ross County has been the perfect antidote to the low of losing mentor Jim McIntyre.
The Dingwall side's leading goalscorer grew close to McIntyre and felt he owed the sacked Staggies' manager a debt of gratitude after standing by him through an 18-month head injury ordeal.
Debilitating symptoms following a serious bout of concussion rendered Curran unable to perform to anywhere near full powers through significant spells of the past two seasons.
The Liverpudlian, though, has blazed a trail back to full form in the new campaign.
Of six goals netted so far, four came in the League Cup, but a fine predatory finish in Coyle's maiden victory against Kilmarnock before the international break amounted to a statement of intent.
Curran revealed the gloom and self-recrimination felt in the County squad after McIntyre's dismissal on September 25 was quickly lifted by the buzz Coyle and his new backroom team brought to the club.
The new man was in place just four days after McIntyre's sudden departure and Curran said: "It wasn't nice at all. We had some good times with Jim and Billy and their record here speaks for itself.
"It was disappointing and a real surprise to everyone when it happened, especially coming into the games we had.
"I knew the new manager, of course, from being in England, although I'd never met him personally, but the list of clubs he has been at speaks for itself. He's taken charge of some top teams and it's an exciting new start.
"We obviously got off to a flier with him in the win at Kilmarnock and training has been really good. We have been buzzing and we are looking to take the Killie win into this week at home to Hearts. We know we need to start winning at home and give the supporters something to cheer about."
Curran, energy restored, has all the zest of a teenager as he strives to make up for lost time. His header at Kilmarnock from a Davis Keillor-Dunn cross was reminiscent of the best of his early County career before injury troubles ensured.
Curran said: "I had a really good start coming here and took off flying the season after that but then I got the injury. It has been a long 18 months to two years but, hopefully, I'm getting back to where I was.
"Just being out there, training and playing, you don't realise how much you will miss it until it's nearly taken away from you.
"It is just nice to be out there with a smile on my face and back playing with the guys."