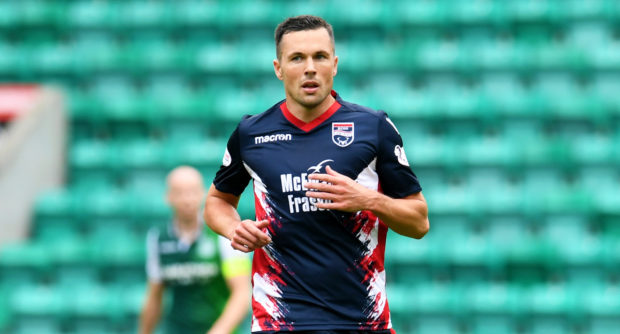 Ross County midfielder Don Cowie and defender Liam Fontaine will take their first steps into coaching after being appointed as the new management team of the club's under-18 side.
The duo will take charge of the youth team for the rest of the season but co-manager Stuart Kettlewell hopes the new coaching duties can become a permanent fixture for the duo.
Kettlewell said: "Don and Liam will take on the responsibility of the 18s which will free up Richie Brittain to focus on the reserves.
"It helps us as we are wee bit short. Brian Irvine and Richie, who were taking the 18s, will continue to work with the youth set-up from 13s to 16s.
"Liam and Don will focus on the 18s for the final 10 games of the season. Liam is doing his rehab at the moment while Don lives five minutes from the ground and it works out really well for them.
"There is no huge change, we're just getting more out of them. Right now the idea is for them to take the 18s through to the end of the season but the bigger picture is that we would like them to be involved in the coaching side."
Despite the change in responsibility Kettlewell insists the duo remain very much part of the first-team plans as players.
Cowie is in the squad for tomorrow's home game against Morton while Fontaine is continuing his recovery from a ruptured Achilles but the duo will both be in the dugout today when the Staggies under-18 side face St Johnstone at the Highland Football Academy in Dingwall at 2pm.
Kettlewell said: "They have great experience, great knowledge of the game, and gets their foot on the ladder in terms of the coaching side of the game, but I have to emphasise they are both players and valuable ones at that.
"We know we can manage them both during that period as the 18s play on Fridays but we're away to Ayr on a Friday soon and if Don is involved with the first-team squad Liam will take the team with Richie.
"A lot of the 18s have stepped up and played with Richie's reserve team and done really well but we want to piece it all together and see if we can really push these lads from the 18s to the reserves to the first-team.
"We'll have three brackets, the youth, the reserves and the first-team. We'll take responsibility for the first-team, the reserves and 18s while the coaches downstairs will look after the youth side and the community department will take care of the 11s and 12s. The idea is to streamline the system and we'll see if it works."