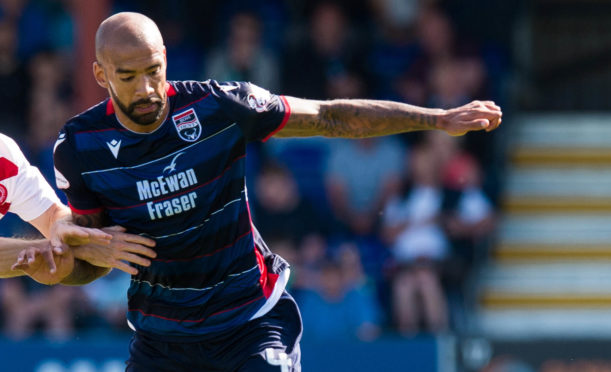 Ross County's fine Premiership start has taken them to fifth in the table, however Liam Fontaine feels there is still room for improvement.
County have not looked back since winning the Championship title, having won three and drawn two of their opening eight games.
The Staggies face their biggest challenge yet when they face champions Celtic at Parkhead today, in their first game since the recent international break.
Defender Fontaine is keen for the Staggies to keep their standards high, and he said: "All the hard work last season was to get the club back into the Premiership, where the owners and managers thought it belonged.
"We have got here and we are going along all right. We are in a great position in the league at the moment, but we could arguably be in a better position points wise.
"We are not going to complain, because if someone had said to us at the start of the season we would be sitting where we are in the table right now we probably would have taken it.
"It just shows the mentality and the targets we are setting, that we are saying we could be better off.
"There a couple of games we probably should have won. At the same time, we are happy."
Celtic come into today's game on the back of a 2-0 defeat to Livingston in their last outing, however Fontaine is no more wary than normal.
The 33-year-old added: "It's no secret they have been the best team in Scotland for a number of years now.
"Whether they get beat or they win five in a row, when we go there it's always going to be dangerous.
"It's a good arena to go and play in, and a great pitch. We will go there with a plan.
"It's one of those games where we can throw everything at it, we go there as underdogs. That's no secret.
"They have shown they are beatable, so we are not going there thinking we're not going to win the game.
"The opportunity is there, we just have to see if we can take it."
Fontaine, who has stepped into a coaching role with the Staggies' under-18s, is relishing the task of plotting the Hoops' downfall, and he added: "We just train as normal, it's the same as always where the managers will analyse Celtic.
"That's the side of the game you enjoy as a manager and a coach, in trying to find the weaknesses in teams. That's what you have to do.
"I'm doing that with regards to coaching now. I'm seeing that side of it as well. It's all about finding what you can take in your advantage."