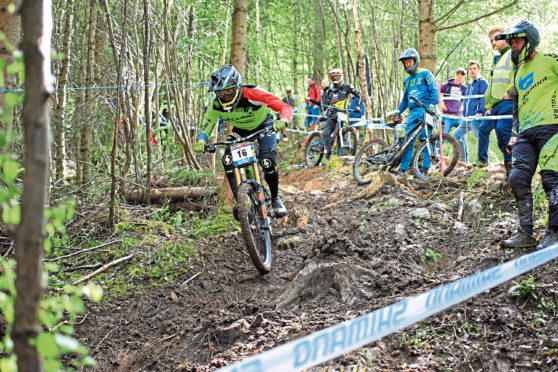 Greg Williamson will arrive at this weekend's mountain bike World Cup at Fort William with redemption on his mind.
Williamson's ambitions of a podium finish last year were shattered by a brake problem during his run and he had to settle for 58th place.
The Inverness rider, who has had three top-10 finishes in his home event, says the feeling of despondency that followed makes him determined to atone this weekend.
Williamson said: "Last year I had pretty high expectations, but in the race I had a mechanical issue.
"There is a bit of redemption to be had. I really want to have a good one this year.
"You are pretty deflated after that, but fortunately I was racing back-to-back weekends.
"I had the chance to get over it quickly and get on to the next race.
"It was one that I looked back on throughout the year and thought 'it would have been really good to snatch more points there.'
"But you can't look back, these things can happen.
"I'm just looking on to Fort William and trying to right my wrongs."
Although Williamson's goal of gracing the Aonach Mor podium remains, the 26-year-old, who came seventh in 2016 in the best of three top-10 finishes, insists he is not putting as much pressure on himself this time around.
Williamson said: "A realistic goal is just to be in the top 10, that's my goal for each World Cup this year.
"If I can get a podium in front of the home crowd, or win it, it would just be a dream come true.
"That is deep down what I'm really wanting, but you've got to be realistic with the kind of form you're carrying.
"A top 10 is realistic, so I will go with that just now.
"There are a few tracks coming up after that which look really good, a few of my favourites.
"I have a few key tracks marked down as ones I want to do well at."
Two-time British champion Williamson recently recorded a fourth place finish on the Fort William track in the UK national downhill series, but hopes he has saved his best for this weekend.
He added: "I was at Fort William earlier in the month and was fourth at the UK Nationals.
"That was good, I wasn't expecting to do much. I just went there as a warm-up, I'm not getting excited too early, or wanting to show my cards too soon.
"It is a funny one, everyone is not too sure whether to go for it or not. They know Fort William is the main show.
"It was good to be on the podium, but that's what I want to do at the World Cup and that's what I'm going to aim for. Hopefully this year."