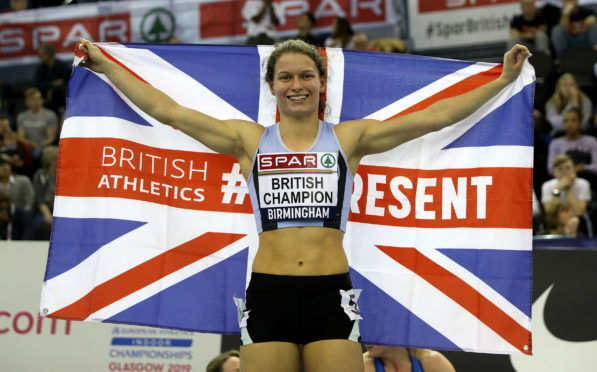 Tokyo Olympics 400m hopeful Zoey Clark has shelved plans to compete in this weekend's 4J Studios Scottish Indoor Championships at Glasgow's Emirates Arena.
The Aberdeen AC sprinter was originally planning to tackle the 60m or 200m but has decided to pull out after returning from a Great Britain training camp at Stellenbosch in South Africa.
She said: "The camp in South Africa has gone very well. We have been very lucky with the weather and the facilities are absolutely amazing. I've had some good intense sessions out there which I would definitely not have been able to do back home.
"It has been particularly helpful to have a lot of the GB staff out at the same place, because it has allowed me to tie into a lot of their services. Unfortunately I'm not going to run at the Scottish championships anymore. I've picked up a slight niggle, nothing too serious and since it's a very important year we're not going to take any chances."
Another top north east sprinter, Alisha Rees, will start as favourite to win the women's 60m in Glasgow. The 20 year-old Loughborough University student, who represents Banchory Stonehaven AC, is competing in the national indoor championships for the first time since 2017 when she notched an impressive 60m and 200m double.
Rees has her sights set on representing Great Britain in this summer's European championships, and is keen to get her indoor campaign off to a successful start.
She said: "Training has been going well and I have been improving on my starts and times have been showing. I've been pretty busy with exams over the past few weeks so hopefully that hasn't taken too much out of me.
"Other than that I'm really looking forward to it. I haven't done the Scottish indoors for a few years now and I love running at the Emirates, so it should be a good day.
"Ultimately I would like to win and I'm hoping a decent time will come along with it. It will be a good indicator of where I'm at."
Rees's 60m opponents include the Aberdeen AAC duo Rebecca Matheson and Sharon Jasika, both of whom also plan to compete in the 200m.
Teenager Jane Davidson (Aberdeen AAC) will attempt to repeat her stunning performance from 12 months ago when the Hazlehead Academy pupil won the senior women's 60m hurdles.
Aberdeen AAC's Carmen Neat, who is now based at Loughborough University, will hope to make her mark in the high jump after setting a personal best of 1.77 metres recently. Claire McGarvey (Banchory Stonehaven AC) will also hope to feature strongly.