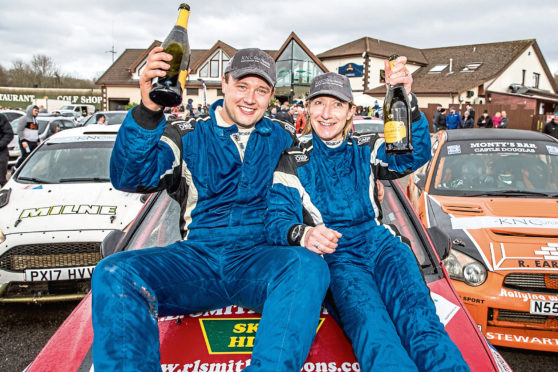 Michael Binnie admitted he was stunned after winning the Coogie Urquhart Snowman Rally on the opening round of the KNC Scottish Rally Championship.
Binnie and co-driver Claire Mole, behind the wheel of his Mitsubishi Evo IX, sat in the top three throughout the entire event but made his move when it mattered most, overhauling Jock Armstrong and Cameron Fair on the final 11.85-mile stage.
Aberdeen's Freddie Milne and Patrick Walsh were third in their Ford Fiesta R5 – just three seconds shy of Armstrong and Fair and 23 seconds down on Binnie and Mole.
However, it was Banchory's Bruce McCombie and Michael Coutts that bagged the honour of the first stage win of the new season in their Ford Focus WRC, edging Scott Beattie and Paula Swinscoe by a single second in the treacherous conditions.
Armstrong hit back on the second test with the fastest time, but McCombie held his lead heading into SS3 before dropping back. A developing engine misfire then restricted McCombie to sixth.
Heading into service, it was Armstrong who led with an eight-second cushion over Binnie. Inverness driver Donnie Macdonald and Andrew Falconer were third in their local event, just 20 seconds shy of the lead in their Ford Fiesta R5.
Armstrong looked to have delivered a hammer-blow on the rally's penultimate stage, beating Binnie by a clear nine seconds to take a 17-second lead with him into the second running of Lochletter.
But the final 11.85 miles proved a real sting in the tale as Binnie stole 37 seconds back from his rival to vault into the lead and win his first-ever rally overall. It was also co-driver Mole's first SRC victory since the Border Counties Rally alongside Steve Perez in 2007 and her second in total.
Binnie said: "I'm as surprised as anybody.
"We were sat in a comfortable second place all day and luckily we had a blinding last stage and managed to take the win. In the back of my mind I thought if we can get a podium that would be great, but I don't like to set my hopes too high. That would've been absolutely brilliant, but this is just a wild feeling.
"You should never, ever give up as you don't know what might happen at the end and we've proved that today."
Armstrong was bemused about dropping so much time but conceded it was a positive day. "I've picked up second prizes all the way through my life. I said to Cammy (Fair, co-driver) it would be nice to win a rally today but it wasn't to be, maybe we just fell asleep on the last stage. But we had a good day, quite successful so a good start to the year.
"Well done to Michael Binnie, his first victory and well deserved."
Milne was on a mission on the last stage as he looked to recover a 10-second deficit to Macdonald up ahead. The Fiesta R5 pilot managed it, winning the test to beat Macdonald by 11 seconds.
"I tried like I never have before in that last test," he admitted.
"It's very mixed emotions as we felt we were held up in that last stage so we thought we'd done terribly but ended up on the podium. All I really care about is the Scottish Rally Championship so this year we want to have a really good go at it.
"I'm in two minds whether to use the R5 for the rest of the season or the Subaru WRC. They're tricky things to drive.''