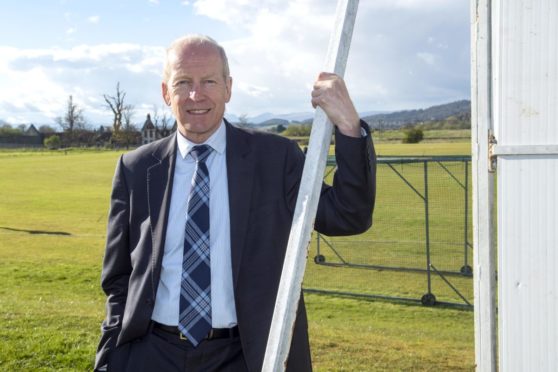 One of the north east's leading sports clubs has admitted it is "facing a critical juncture in its history" as it grapples with dwindling participation numbers and changing an "outdated Victorian membership model".
Aberdeenshire CC, which was founded in 1857, has rolled out a Vision 2030 policy, in a bid to safeguard its future, and is proposing to redesign the club premises using "heritage themes" and creating a new visitor experience at Mannofield.
The club's president, Willie Donald, has said the organisation needs to tackle significant issues after Aberdeenshire were relegated from the Eastern Premier League last season, and whose new annual accounts record a financial loss in 2019-20.
He said: "Sports clubs across the board are finding times hard as a result of societal changes, the new drunk driving laws and general economic circumstances.
"This is a critical juncture in the club's history and we must react to these challenges if we are to preserve our wonderful cricket club, vital to both the communities of Aberdeen and Aberdeenshire, and to Scotland in general.
"We must increase our income and control our costs and this year will see a number of initiatives being developed to help us achieve these ends."
Mr Donald revealed that Shire had benefited from last summer's ICC World Cricket League 2 event, when Mannofield staged six international matches in 11 days in August, involving Scotland, Oman and Papua New Guinea.
And, in advance of the club's agm on March 25, he said there could be positive news for 2021, with Aberdeenshire having been "provisionally accepted" to host more high-profile WCL games, including the involvement of the United States.
He believes this "may well prove to be a magnificent opportunity for the club, for Aberdeen, and, of course, the oil and gas industry."
The club is now striving to build on its distinguished history. Sir Don Bradman, widely regarded as the sport's greatest-ever batsman, played his last match in Britain at Mannofield in 1948 during a two-day game which attracted more than 10,000 spectators.
However, the organisation realises it is dealing with turbulent times. A year ago, it recognised it had "flatlined" and accepted "a new direction was required."
One of the club's former players, Colin Smith, who represented Scotland 182 times, and appeared at the 2007 World Cup, thinks the Vision 2030 strategy can help transform matters in the coming years.
He said: "We are not alone amongst amateur sports clubs in encountering difficulties In the new millennium.
"Times have changed and sports clubs need to change with them to survive.
"I think Willie and the committee have sought the proper advice and see a positive way forward for the next generation.
"This is a great club with a long history of which everyone from the north east should be rightly proud and the club is looking to take advantage of this.
"Over the years, we have witnessed at Mannofield some of the greatest players to play the game and this is due to the continued investment, commitment and ambition of the club and its members.
"These changes will hopefully insure this investment can continue and we will all be able to enjoy what this club has to offer on and off the pitch for generations to come."