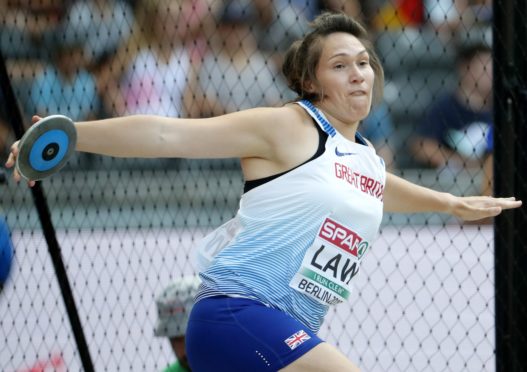 Great Britain discus thrower Kirsty Law admits to being extremely disappointed with her performances after returning to action following a four-month hiatus because of the lockdown.
The Loughborough-based Inverness Harriers club member, who has aspirations of going to the 2021 Tokyo Olympic Games, competed at the first UK athletics post-lockdown meeting at Allianz Park in London.
She also travelled to Germany for a throws meeting in Osterode.
Although pleased to get back into the competitive groove, Law admits her results fell well short of expectations.
She had opened the season at Loughborough in March by throwing 56.38m, which was an encouraging start given her lifetime best is 57.79.
At the London meeting she cleared 55.32 to finish second behind training partner, Olympian Jade Lally, who won with 56.10.
However, Law struggled badly in Osterode with a best of 53.88 from six throws to take fifth position, while Germany's Julia Ritter won with 59.64.
She said: "I wasn't too unhappy with the London performance, although I was expecting more.
"But Osterode was a nightmare. I really didn't know what I was doing. I got so down about it that I questioned whether there was any point in any of it.
"I think what got to me was that I was expecting to come out and throw a PB. Then I didn't, I struggled, and I just felt as though I'd had enough.
"Even throwing 55m in London was hard. I normally do that no bother in training. I just seemed to make it so tough for myself and put too much pressure on myself.
"I needed a break from everything and I came off social media for a couple of days as I'd had enough of the whole thing.
"But after getting home I had a much better training session and now I feel much better again."
Law is an experienced athlete and knows that there will always be ups and downs in sport and hopes this episode will simply be a blip which will iron itself out. She'll attempt to defend her British title at Manchester Sports City at the beginning of September, but hopes to fit in a few other competitions.
She said: "I don't want to compete again until I feel confident that I'll throw well. So the next one for me might be at Loughborough in mid-August.
"There's another meeting in Portugal before, but I'm not sure if I'll go. I have flight tickets because I was planning to go there earlier this year until it was postponed, but I probably need a few weeks to regroup."