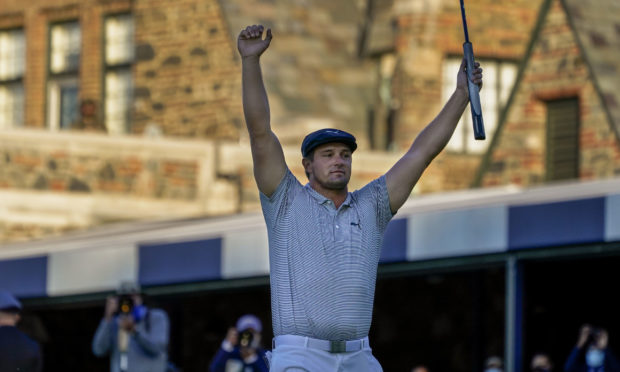 I need to eat not just humble pie but follow it with two protein shakes after getting my prediction about Bryson DeChambeau's US Open chances so spectacularly wrong.
I should have known better than to pat myself on the back a few weeks ago for accurately predicting Dustin Johnson would win the Fed-Ex Cup by stating Winged Foot would not bend to DeChambeau's will.
Well, if you are going to get it wrong you might as well make it spectacular, I guess.
I just couldn't see it happen, that much is clear, but to be fair to him he played some amazing golf.
Bomb and gouge is the new phrase, but it's too simplistic to label the new champion as a powerhouse.
Yes, he has bulked up, as I've discussed several times this year, but we should not forget he was a winner on the PGA Tour and as an amateur before that. His physical transformation has been well documented, but let's not kid ourselves that he is some sort of overnight sensation.
He had the track record already, but he is not the finished article. DeChambeau's post-tournament comments about still wanting to be bigger and faster show he is intent on changing the dynamic of his game and quite possibly the game in general.
There will be pros and cons about what is to come, but history has shown us the pitfalls can be severe. I can recall Tiger Woods changing his physique, albeit not in the dramatic fashion DeChambeau has, and blasting his way around Pebble Beach. People still debate decades later what effect his strength and conditioning had on him.
But if DeChambeau is intent on continuing to push himself to the limit in the belief he can be even more dominant than his six-shot victory on Sunday, then good luck to him.
Amazing feeling after so much hard work has gone into this transformation of my game and outlook. Thank you to my fans, team and sponsors for sticking with me. And thank you to the @USGA, @usopengolf and Winged Foot for an incredible test. So honored to have won my 1st major here pic.twitter.com/75OEogzMtc

— Bryson DeChambeau (@b_dechambeau) September 21, 2020
He has found a way to win on a course which shouldn't be tamed in the manner he did it. Does he have the gracefulness of someone like Rory McIlroy? Of course not, but boy is it effective.
He only hit 23 fairways across his four rounds at Winged Foot yet won emphatically. He made bunkers obsolete and could drive over fairways. He played for angles and was able to power his way out of the rough to the green.
It was fascinating to watch, but I hope there is no knee-jerk reaction to what he has done.
If I can drive 300 yards on average, and DeChambeau is averaging 330, giving me a club which drops me to 270 will not alter the fact he is still 30 yards ahead of me.
Two huge weeks for my season drawing closer
I'm back on European Tour duty this week in Ballymena for the Irish Open and I'm looking to build some form ahead of what will be two huge weeks for my season.
The calendar may have been rejigged substantially this year due to Covid-19, but the goal at this time of year remains the same – trying to force my way into the end of season World Tour Championship in Dubai.
Good performances in the Scottish Open at the Renaissance Club next week and the PGA Championship at Wentworth a week later would go a long way to pushing me up the rankings, and I'm hoping a good week in Ireland can kick-start my push towards that goal.
The Challenge Tour was here three weeks ago and the course is in fantastic condition.
The theme from Portugal continues where the rough is thick and there are a lot of dog legs here, so accuracy will be key.
For Shane Lowry, who lives 40 minutes away from the course, this is as close to a home event as he can get and I'm sure he will fancy his chances, but I've had a third-place finish in this tournament before and there is no harm in coming back to a place where you have good memories. Hopefully I can build some more in the coming days.