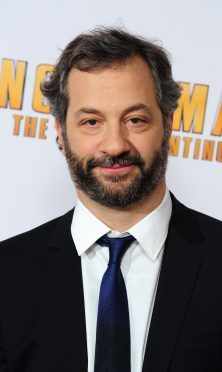 Judd Apatow has hit out at Diane Keaton for defending Woody Allen following claims the 82-year-old sexually abused adoptive daughter Dylan Farrow.
Keaton's comments follow a television appearance by Farrow, 32, in which she discussed her allegation that Allen molested her in an attic as a child.
Allen has always rejected the claim, which first surfaced in the 1990s and re-emerged in the wake of the Harvey Weinstein allegations.
He was investigated at the time but not charged.
The actress, 72, tweeted: "Woody Allen is my friend and I continue to believe him. It might be of interest to take a look at the 60 Minute interview from 1992 and see what you think."
Keaton has starred in several Allen films including Annie Hall and Love And Death.
In a tweet, Apatow responded: "I see a man who wanted what he wanted and didn't care that he was having an affair with a 19-year-old when he was 54 who was also his daughter's sister."
The producer added: "He also took nude photos of this child who he had known since she was nine and left them out for his family to see. Narcissism."
A growing number of stars have distanced themselves from the filmmaker following the allegations from Farrow.
A Rainy Day In New York star Timothee Chalamet announced earlier this month that he would donate his salary from the forthcoming film to charity, including the Time's Up initiative.
Mark Wahlberg also said he would give away his $1.5 million (£1.1 million) earnings from the reshoot of All The Money In The World to the movement, which supports accusers of sexual harassment and abuse.