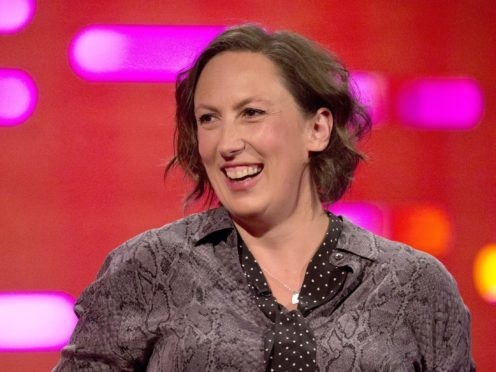 Miranda Hart has been dishing out advice to people who might be feeling sad or lonely on Valentine's Day.
The comedian – who is thought to be single – told her fans on Twitter that she would be available online on February 14 to "impart wisdom" and let people know they are "loved and not alone".
The star said the day should not make anyone feel "lesser" or "isolated".
Hart, 45, started by tweeting: "I don't know the full history of St Valentine but I do know it was a feast day to celebrate love and affection, not a commercial day to make anyone feel lesser, isolated or alone. So I shall be on twitter all day to chat to anyone feeling lonely. Please RT #Hartsvalentineday."
She added: "So prepare questions, worries, ideas, and I shall impart wisdom where I can but basically just know you are loved and not alone and we shall hang out and play. See you tomorrow. #Hartsvalentineday."
She later tweeted: "First – big shout out and love to single people out there, especially single people who don't want to be single. You are loved for just being you."
Hart shared a picture of herself with a dog, saying they were a "woman's best friend", and told people she would not mind seeing some images of donkeys too.
"Woman's best friend. Thank God for the love of pets. I am keen to get a donkey (seriously!) so pics of donkeys welcome. Apparently miniature donkeys exist. MINIATURE DONKEYS!!!" she tweeted.
She urged people to try out things on her "Twitter Valentine Mission" list.
Items include "Give a policeman or woman a cheeky kiss", "give someone you don't know a flower" and have a "public gallop".
As people shared their romantic woes, Hart started replying and offering support and encouragement.
She said issues that kept cropping up were women feeling something was wrong with them if they had not found the one, and people feeling as if singledom was the worst way to live.
She said: "2 themes from my chats. 1.Women (mainly) feel something's wrong with them if single. My answer: BULLSHIT! U r brilliant, loveable & perfect as u, & u have to believe that when single as u won't believe it just coz u r with someone. Love and respect yourselves.x.
"2nd theme. 2. Being single is terrible/'the worst' etc . My answer: BULLSHIT! If you are single, it can be hard yes, but it is what it is for now, so name 10 advantages of it and focus on them. You'll miss them when they're gone! #Hartsvalentineday."
One follower suggested Valentine's Day was also a day to appreciate yourself, and Hart responded: "Love this.
"It can often feel counter cultural / selfish to focus on oneself but until you love yourself then you can't really go out and be the full energetic giving and loving you.
"Someone said 'you are the greatest love of your life'."