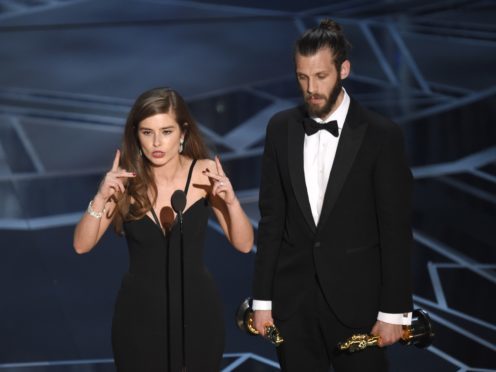 Former Hollyoaks stars Rachel Shenton and Chris Overton have won the best live action short film Oscar for The Silent Child.
The British soap stars, best known for playing Mitzeee Minniver and Liam McAllister in the Channel 4 show, fended off competition from short films DeKalb Elementary, The Eleven O'Clock, My Nephew Emmett, Watu Wote/All Of Us at the glittering ceremony.
Collecting the prize, Shenton delivered her speech in sign language saying: "I made a promise to our six-year-old lead actress that I'd sign this speech.
"My hands are shaking so I apologise."
She added: "Our movie is about a deaf child being born into a world of silence.
"It's not exaggerated or sensationalised for the movie, this is happening, millions of children all over the world live in silence and face communication barriers and particularly access to education.
"Deafness is a silent disability, I want to say the biggest of thank yous to the Academy for allowing us to put this in front of a mainstream audience."
Shenton wrote, produced and starred in the film about childhood deafness after she became passionate about the issue when her father became deaf when she was young.
Overton – who is engaged to Shenton – served as director on the film, focusing on a deaf four-year-old girl named Libby, played by deaf actress Maisie Sly, who lives in a world of silence until a caring social worker teaches her the gift of communication.
Shenton is one of just a few actresses to give their Oscars acceptance speeches in sign language.
Jane Fonda signed part of her speech as she accepted the best actress award for Coming Home in 1979, as did Louise Fletcher who signed to her deaf parents when she won best actress for One Flew Over The Cuckoo's Nest three years earlier.
Marlee Matlin, who is deaf, also signed when she won best actress for Children Of A Lesser God in 1987.
The duo's former Hollyoaks co-star Jorgie Porter was among those tweeting a message of congratulations following their win.
She wrote: "I'm absolutely soooooo bloody estastic !!!! Well done @RachelShenton and @overton54 on the greatest moment ever !!!!!! #Oscar."