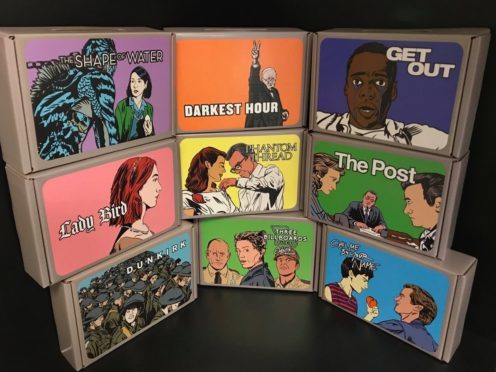 Jimmy Kimmel had a surprise in store for attendees as he hosted this year's Oscars award ceremony: A special snackbox for every guest, themed around the best picture nominations and including a donation to a local foodbank.
"We don't like it when people are hungry," the official Twitter account for Jimmy Kimmel's chatshow tweeted minutes before the ceremony began. "So we provided lunchboxes with snacks for everyone at the #Oscars and included a donation to the @LAFoodBank for each one."
The boxes, each of which had original artwork portraying the best picture nominations, contained a hand-written note from the chatshow host and comedian, as well as snacks including crisps, chocolate, sweets and a gronala bar.
"It wouldn't be right to make you sit through this without snacks," Kimmel had written on a note inside. "Please don't throw them at me."
Guests were delighted at the gift.
"Jimmy Kimmel has Oscars snacks for guests!" guest Carly Mallenbaum wrote on Twitter. "V[ery] grateful for this lunchbox that was under my seat."
"This is not drill," wrote Chris Gardner. "@JimmyKimmelLive is hero of #Oscars & show hasn't started yet. He's put a snack box under each set for all 3,400 guests with handwritten note."
Kimmel finished each note with the promise that a donation had been made to the Los Angeles Regional Food Bank for each box.