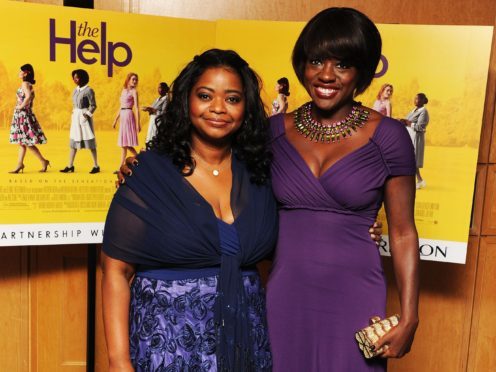 Octavia Spencer has spoken about how the film The Help changed her life as she celebrated the seventh anniversary of its release.
The actress won an Oscar for her portrayal of maid Minny Jackson in the civil rights film, which tells the story of an aspiring author who decides to write a book to detail the plight of and injustices faced by black maids in her Mississippi hometown during the civil rights movement of the 1960s.
Spencer shared a photograph of herself wielding her character's famous chocolate pie and wrote: "The Help turns 7 today. This woman #MINNYJACKSON changed my personal and professional life.
"What I personally learned from the entire process in preparation for this role was: it doesn't matter if the glass is half empty or half full. What matters is if you own the glass.
"Minny, Aibileen, and all the other maids didn't own the glass. They didn't have the luxury of deciding to be positive (half full) or negative (half empty) as society decided for them. #agencyisTheKey #TheHelp."
Viola Davis, who played Minny's fellow maid Aibileen Clark and was nominated for the best actress Oscar for her performance, also shared a photograph from the film on Instagram.
She wrote: "It changed our lives. What an experience. My takeaway? It was the deepest, most intimate, joyful time I spent in the company of women.
"We are powerful together. The audience received the overflow of the love that we had for each other."
Bryce Dallas Howard, who played the villainous Hilly Holbrook, wrote: "The Help turns 7 today. Making this film, and getting to be apart of telling this story with this group of women, changed my life.
"I will forever look up to you ladies. All of you. Forever gratefully."
Allison Janney, who also starred in the film, also shared a shot from the film and wrote: "Wow, #TheHelp turns 7 today? Seems like just yesterday that I was in Mississippi working with my favourite group of people.
"It was truly a great time and I loved every minute of it. Happy Anniversary. #beautiful."