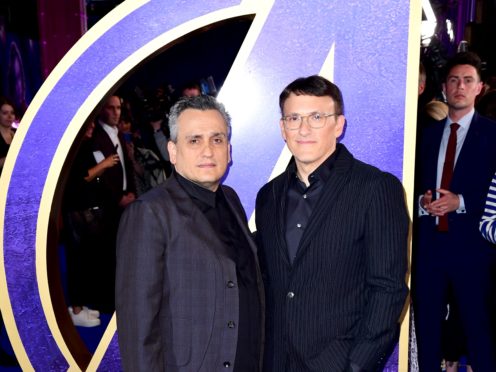 The directors of Avengers: Endgame have said they celebrated wrapping production on the blockbuster with cupcakes shaped like the Infinity Stones from the movie.
Joe Russo, who helmed the film with his brother Anthony, said it was more important to him to focus on the work than enjoy too much jubilation.
The film has been breaking box office records during its opening weekend, making 644 million dollars (£498 million) worldwide by the end of Friday.
The previous record holder was the Russos previous Avengers film Infinity War, with 641 million dollars (£496 million).
Joe told the Press Association: "We had a cupcake in celebration, that was it.
"One of our PAs (production assistants) made these amazing Infinity Stone themed cupcakes and I think I ate the soul stone cupcake."
Anthony added: "I think I had the time stone."
Joe continued: "You have got to keep the celebrations modest, it's how you focus on the work."
The brothers have also directed the Captain America films Winter Soldier and Civil War and reflecting on their role in how the franchise has changed cinema, Joe said: "I think everything has to evolve and I have got four kids and I see the way that they are consuming content and it's very different than the way that we consume content.
"They are not as reverential about the theatre-going experience because they can get content on their phone, they can watch it as they walk to school, as they brush their teeth, it's just a different experience and they don't care about length of content.
"But in a lot of ways what is becoming more and more popular, because it's driving a global dialogue, is long-form storytelling where people can invest more of their time and emotion into a detailed story.
"Game Of Thrones, the Marvel Cinematic Universe, I think that excites people and I think it brings them together and, if there is anything that art does, hopefully it binds people, especially in today's world."
Now the film has been released, it removes the pressure of keeping everything a secret, he added.
"You are hiding information for three years, you feel like you're working for the CIA and at some point it's nice to declassify the files and share them with everyone," he said.
"It's invigorating, this is an exceedingly passionate fanbase and this is a unique experiment in movies and I think the fact that Marvel and Disney allowed us to kill half the characters at the end of Infinity War and that they are allowing us to bring to a conclusion this very lucrative IP (intellectual property) that they have, kudos.
"I think that it creates for a unique cultural event where we are writing the final chapter of this book. The story of the original six Avengers is ending in this movie."
Anthony added: "What I love about bringing the movie to fans particularly is we know how we feel about the movie and do a degree we can guess at how audiences will respond but there is always areas where the audiences have responses that we didn't guess at and I really look forward to those."
Avengers: Endgame is out now.