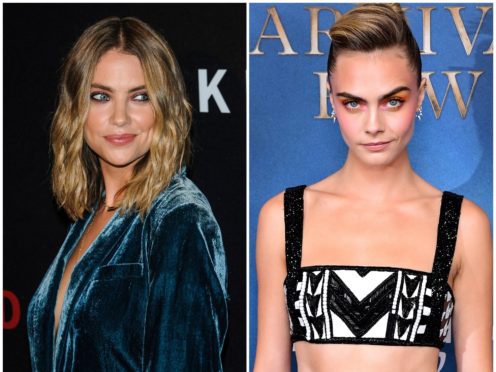 Cara Delevingne shared a picture of herself kissing Ashley Benson as she paid tribute to her girlfriend on her 30th birthday.
The supermodel and actress marked Pretty Little Liars star Benson's milestone birthday by sharing a string of pictures on Instagram, including the snap of the pair locking lips while sharing a bath.
Other shots included a picture of US actress Benson wearing a "birthday girl" headband, and one with their hands linked together in front of a scenic backdrop.
British star Delevingne, 27, wrote: "Happy birthday @ashleybenson. There is so much I could say but something I love and cherish most about us is that I don't need to because YOU KNOW and that's all that matters.
"It's you and me which is my favourite. My safe place. You let me be silly, you let me be wild, you keep me free, secure and curious.
"I feel like I've known you my entire life and I am so proud of watching you grow into the woman that you always dreamt of being.
"I love you beyond words my sprinkles, choonchi, angel face, grumpy ass, sweet cheeks, never boring, buttmunch, Benson."
The catwalk star has been dating Benson for more than a year after they met on the set of 2018 movie Her Smell.
Benson, also known for starring in Spring Breakers, was also given a birthday message by the lesser-seen Olsen twins.
Mary-Kate and Ashley, who are rarely spotted in public, recorded a message for the birthday girl, who shared the video on Instagram.
The celebrity twins said: "Happy birthday Ashley, I hope this year is one of the best ones yet.
"We hope it's super magical. We're sending you lots of love. Can't wait to meet you soon!"
Benson was clearly thrilled with the message, as she captioned the post: "Dreams do come true."