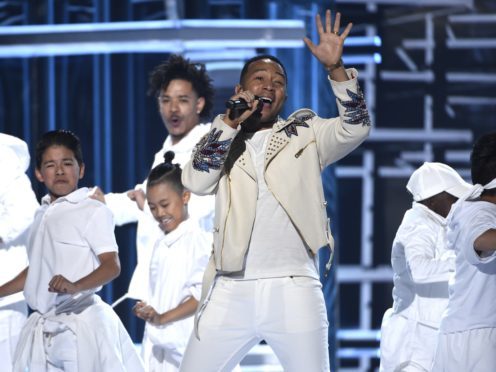 John Legend took no time in getting back to his newborn son following a performance at the 2018 Billboard Awards and filmed himself at the airport minutes after walking off stage.
Legend, 39, has just welcomed his second child with wife Chrissy Teigen but managed to squeeze in an emotional rendition of his new hit A Good Night at the star-studded ceremony in Las Vegas.
Teigen, 32, was taking care the couple's children, two-year-old Luna and newborn Miles Theodore Stephens, at their home in Los Angeles.
She tweeted Legend during his performance.
Along with a video of Legend on stage, she wrote: "Hello it's shortrib night be home by 9."
After his performance, Legend replied, filming himself at the airport and saying he would be home by 8pm.
During Legend's performance, Teigen poked fun at her husband being in Las Vegas days after she had given birth.
She wrote: "Wow didn't u just have a baby John smh go take care of it !!!!!! disgusting."
On Sunday, Teigen shared an adorable picture of the newborn on Instagram, writing: "Hello, world! This is Miles Theodore Stephens – We are drowning in his little peeps and nuzzles.
"Our household feels overwhelmed with love.
"Thank you for all your well wishes!"
The baby is a little brother for Teigen and Legend's two-year-old daughter Luna.
Luna was born in April 2016 after Teigen opened up about the couple's fertility struggle and how she had undergone IVF treatment.