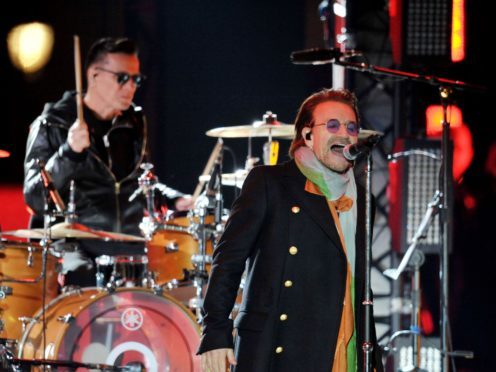 U2 have apologised for cancelling a concert after lead singer Bono lost his voice.
The Irish rockers were playing in Berlin, Germany, on Saturday but had to stop after a few songs as Bono struggled with vocal issues on stage.
The band said in a statement: "We're so sorry for tonight's cancellation. Bono was in great form and great voice prior to the show and we were all looking forward to the second night in Berlin, but after a few songs, he suffered a complete loss of voice.
"We don't know what has happened and we're taking medical advice.
"As always, we appreciate our audience's understanding and all our fans' support in Berlin and those who travelled from afar. We will update you very soon."
The statement, shared on the band's official website, was signed by band members Adam Clayton, Larry Mullen Jr and the Edge.
Bono, 58, had halted the gig and told fans: "I think we can't go on, it's not right for you."
The singer, real name Paul Hewson, said that he was sure it was not a "big, big problem".
American actress Ashley Judd was at the concert, and shared a clip of Bono singing before his voice cut out.
She wrote: "The power of #bono voice before it surprised him in #Berlin and left him abruptly… he was singing his guts out (per usual)."
Judd added that "the crowd so felt for him" and that he was "obviously powerless and vulnerable".
"He's real and he's human, too, like we all are."
The band are currently on their Experience and Innocence Tour and are next scheduled to play in Cologne, Germany, on Tuesday.