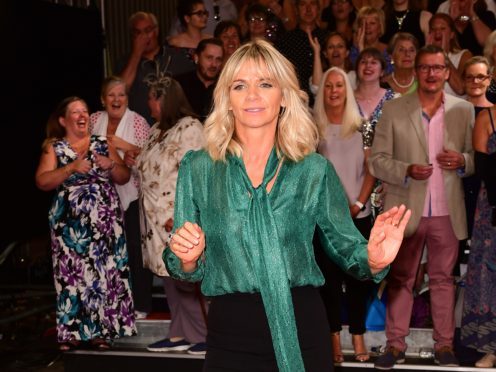 Chris Evans has hinted that Zoe Ball will replace him on his Radio 2 breakfast show.
The popular DJ, 52, told listeners the new host would be revealed on Wednesday morning.
Ball, 47, would be the first female host of the Radio 2 breakfast show.
Evans played a trail for a Fatboy Slim documentary on Radio 2, airing on Wednesday night, and said: "This family is taking over, more of that later."
He told listeners: "Don't think you're going to be disappointed."
Ball was previously married to DJ and record producer Fatboy Slim, whose real name is Norman Cook.
Evans previously shocked fans by announcing a return to Virgin Radio, "my spiritual home", almost 20 years after he left the station.
Ball, the first solo female Radio 1 breakfast show host, was favourite to take over the high-profile role on Radio 2.
Her TV jobs include host of BBC spin-off show Strictly Come Dancing: It Takes Two.
She was at the forefront of the "ladette culture" that swept through broadcasting because of her hard-drinking party lifestyle.
Ball recently made a programme for Sport Relief following the loss of her partner, Billy Yates, who was found dead at his home at the age of 40.
Ball hosts a live Saturday afternoon show on Radio 2 and has stepped in for Evans on the breakfast show.
BBC boss Lord Hall recently said the disclosure of Evans' pay packet, of at least £1.6 million, was one factor behind his decision to quit Radio 2.