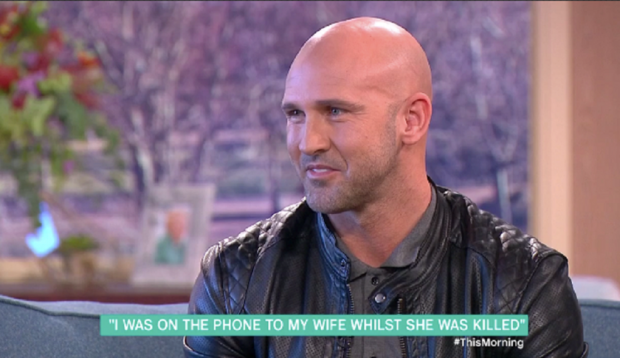 A man who reduced viewers to tears on SAS: Who Dares Wins by sharing the story of his wife's murder has been praised for speaking out about his ordeal and for volunteering as a counsellor to help others.
Dan Cross had been on the phone to his wife Nicola, who was at their home in Hertfordshire with their two young children, when an intruder broke in and killed her in September 2015.
Mr Cross, a recruit on the Channel 4 programme, told ex-special forces soldiers Ant Middleton and Jason Fox of his traumatic past in Sunday's episode, leaving them – and fans of the show – stunned.
Appearing on ITV's This Morning, Mr Cross said he is now working as a volunteer to help others who have been through similar situations, and urged people to seek counselling following the death of a loved one.
He said counselling was "the best decision I've ever made".
"For the first month after Nicky was killed, it was flashbacks and being dragged back into that situation where I felt like I couldn't breathe, I was underwater, I couldn't hear properly – I was back in that moment.
"Then I realised, if I'm going to be a good dad to the kids and make sure they grow up confident, happy adults, then I need to be the best dad I can be, and if that means getting help, then I will."
Mr Cross was forced to leave SAS: Who Dares Wins – which puts hopefuls through a gruelling training regime similar to that experienced by SAS soldiers – due to a knee injury.
He said he wanted to appear on the programme two years after the death of his wife for the "personal challenge".
"When Nicky died, we had a lot of people around us for support – friends, family, everybody was so good in the local community, and they really helped pick us back up," he said.
"But I wanted to see if I could put myself under that pressure, to see if I could do it without that support network around me. I felt like I did that."
He added: "The other reason was to raise awareness of anybody out there suffering with grief-related issues to just speak up."
Mr Cross told presenters Phillip Schofield and Holly Willoughby that he now volunteers with Victim Support as a "peer supporter to other families that are going through similar situations to us, homicide and manslaughter".
"They refer people to me and I will lend a sympathetic ear over the phone, listen to their problems, and you get an instant connection to somebody that's been through something similar to you so they don't have to put on a pretence, I don't have to put on a pretence – we can just chat."
Viewers of This Morning took to Twitter to share their admiration of Mr Cross.
One viewer said: "Such a sad story but what strength has came out of it. Bravo Dan Cross for raising awareness and holding your head high for your children.
"Your wife would be so proud. Hero. #SASWhoDaresWins #ThisMorning."
Another said Mr Cross is "such a strong, incredible person and an amazing father", while others described him as a "legend" and an "inspiration".
"In absolute bits at Dan Cross. How can he be so eloquent after what he's been through?" one viewer wrote.
One said: "#ThisMorning so much admiration for this man, genuine sorrow for him x."
During his appearance on the programme, Mr Cross also revealed that he has since found love with another woman, who has helped him and his children cope with their grief.