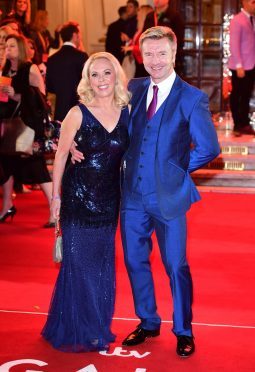 Dancing On Ice judges Jayne Torvill and Christopher Dean have defended their decision to keep Lemar in the competition in Sunday's show, despite his stumble on the ice.
The singer had landed in the bottom two and had to face off against Hollyoaks star Stephanie Waring in the skate-off, and was saved from elimination by the judges.
Waring later said she was "confused" over her departure when her rival had teetered on his skates, but Torvill and Dean insisted that Lemar was the stronger skater overall.
Torvill told ITV's Lorraine: "It wasn't a hard decision for us because it is a skating competition and, stumbling aside, Lemar did more skating, and certainly on his own as well."
Dean said: "When you look at the overall picture, Lemar could stand up by himself, he could propel himself, he could skate faster over the ice, forwards and backwards.
"He had a stumble, but when you look at the quality overall it was still greater.
"We're here to promote the skating side of it, and so we want to see a good skater."
After Waring and Lemar faced each other in the skate-off, judges Jason Gardiner and Ashley Banjo opted to save the actress from elimination.
Dean plumped for Lemar, and Torvill, who acted as this week's head judge, cast the deciding vote and opted to save him.
Earlier in the week, Waring had told Lorraine: "I was very confused as to… there was a trip, and yet I'm the one to go home.
"It is a lot of hard work just down the toilet, really."