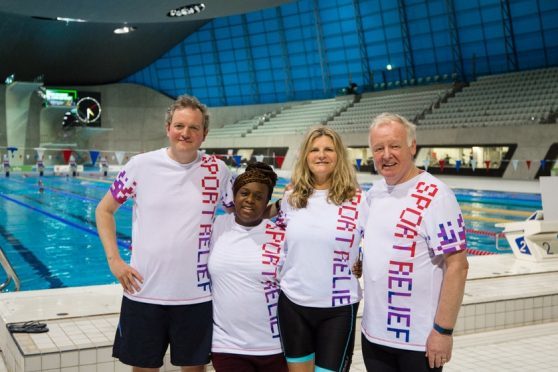 Les Dennis and Susannah Constantine are among a group of celebrities signed up to push themselves to the limit with a series of gruelling fitness challenges for Sport Relief.
TV presenter Dennis and fashion expert Constantine will join comedian Miles Jupp and comic and EastEnders' star Tameka Empson for Famously Unfit … for Sport Relief, which will air on BBC Two ahead of the Sport Relief 2018 live broadcast on March 23.
The four celebrities are to face more than 10 weeks of running, swimming and rowing in order to boost their fitness and inspire the nation to get moving for the biennial charity drive.
Following their weeks of hard work, they will then have to tackle one of the UK's most demanding physical challenges, a muddy and exhausting obstacle course in freezing conditions.
Dennis, Constantine, Jupp and Empson will be helped along the way by Olympian and sports scientist Professor Greg Whyte, and the presenter of BBC Two's Trust Me, I'm A Doctor, Dr Zoe Williams.
Liz Warner, chief executive of Comic Relief, said: "Sport Relief is about all of us doing something active to help raise money for brilliant causes.
"But these celebrities have gone the extra mile – literally – and put their bodies publicly through extreme rigour.
"We can only celebrate their bravery, watch in awe and donate. Thank you Susannah, Miles, Tameka and Les."
Sport Relief, which has raised more than £335 million for Comic Relief since its inception in 2002, culminates this year in a week of activity from March 17 until March 23.