Nick Knowles and the DIY SOS team have embarked on one of their "morally most important projects" to date – rebuilding a community space destroyed by the Grenfell Tower fire.
The BBC's flagship construction show has begun work to create a new home for the celebrated boxing gym that once sat at the foot of the North Kensington block.
It will also build a separate hub for the community on the plot under the winding Westway carriageway, just metres from the scene of the deadly inferno last June.
A team arrived at a long-disused site managed by the Westway Trust on Monday, cutting through a lock with a circular saw to allow their digger to enter.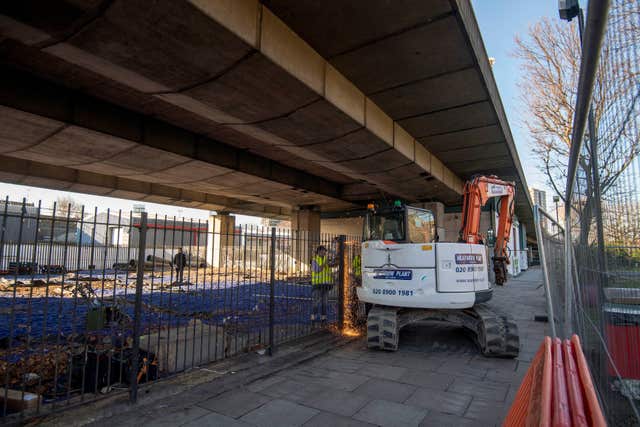 The new site will be used by the Dale Youth Boxing Academy, a gym which has turned out stars including George Groves and James DeGale.
Presenter Knowles was on hand to oversee the project, having first arrived in the neighbourhood just days after the fire.
He said: "It is the biggest and morally most important project we have done in a long time.
"Over the years, we have had a history of being able to make things happen in difficult areas, like in Manchester turning derelict housing into housing for veterans."
The show's producers spent months working out what shape the project would take and finding the appropriate site, before undertaking a six-month consultation with those living in the neighbourhood about the plans.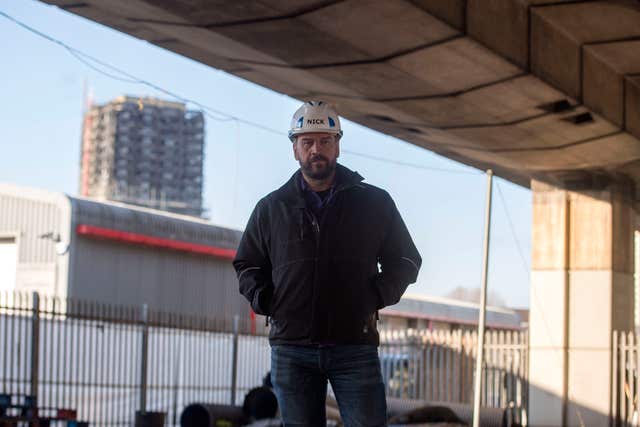 Knowles continued: "It became apparent that it wasn't just the people who were in the building that had been affected, this is a community that has been affected and they wanted something that would be for the community.
"It is important that the community starts to feel like it is in charge of something and the thing that is becoming more apparent is that something is happening.
"The general opinion is 'why aren't things happening?'
"For us to be able to get something up, under way and built inside a year will remind the community that people actually do care, people are ready to come and help this community start to rebuild itself."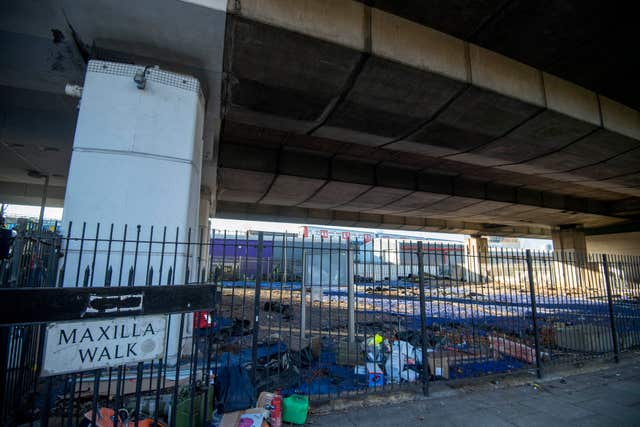 Sensitivities are high around building safety in the aftermath of the fire, as a refurbishment of Grenfell Tower is suspected of aiding the inferno's spread.
To allay concerns, extra precautions will be taken in the new building, Knowles said.
"We are putting a new sprinkler system in despite the fact that it is not actually required – we are making our own judgment above and beyond what is required, because it is important the people that have been through such a disaster feel safe and secure in whatever we build for them."
The prospect of a new space for the community to meet was welcomed by Natasha Gordon, 30, who lived at the foot of the tower.
She said: "It will make a difference, bring some form of peace round here."
For the boxers who trained at Dale Youth, the fire displaced them just six months after the gym was renovated.
Now they train at a makeshift facility in a nearby car park.
Long-time trainer Mick Delaney, 73, locked up the academy just a few hours before the fire took hold on June 14.
Mr Delaney, who has been with the club for 45 years, said: "The boys, the older ones, thought about it a lot more.
"There was one fella whose funeral I went to, his lads never boxed with me at a senior level but they were in our junior section – hopefully they will come back."
Some equipment was salvaged, but debate remains about whether it should be used, he said.
"They took some of the bags and cleaned it out, I think a lot of people are thinking 'do we really want it?'" Mr Delaney said.
One of the gym's biggest fighters, WBA super middleweight champion Groves, has been regular contact offering his assistance.
"George speaks to Mick pretty much every week, he called me the other day and said 'if there is anything I can do in terms of equipment' – George has been at the forefront throughout," said Peter Liggins, 36, who has been with the club for six years.
DIY SOS is putting out a call for donations of building supplies and interiors for the project, as well as volunteers.
If companies wish to donate products or get involved or work as volunteers, they are asked to email diysos@bbc.co.uk.