Declan Donnelly thanked fans for their support after he hosted his first ever Saturday Night Takeaway without co-presenter Ant McPartlin.
The TV favourite was without his normal companion after Ant stepped down from his presenting commitments when he was charged with drink driving earlier this month.
The show – which was cancelled last Saturday – was labelled a success as Dec oversaw an almost seamless live 90-minute show with his only mishap dropping a carton of popcorn.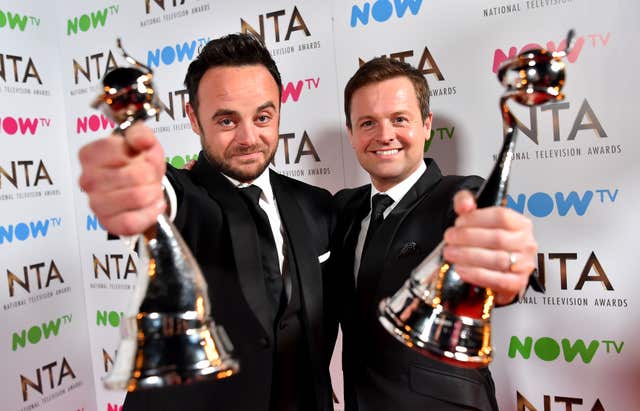 He made several veiled references to the absence of Ant, at one point saying following the news had been "unavoidable" in recent weeks, but did not explicitly mention why Ant was missing.
At the end of the show, he told viewers: "Thanks for all the support."
Earlier he had joked he had "twice the amount of work to do", and at one point said: "I'll have to do it myself, like everything else this week," in a quip related to improving guest musician Paloma Faith's performance.
Later when presenting a segment from an empty ITV studio next to the Saturday Night Takeaway's, Dec joked not to worry – "It's not going that badly".
Ant was not completely absent from the programme. He appeared in the opening titles and also in the continuation of pre-recorded sketch Saturday Knight Takeaway which also starred Joanna Lumley in her regular role.
Although officially hosting solo, Dec was supported by presenter Davina McCall as part of a new segment related to McCall's own show, This Time Next Year.
Regular support presenters Stephen Mulhern and Scarlett Moffatt also lent a helping hand as did guest announcer Stephen Merchant who also referenced Ant's absence on several occasions.
He asked Dec if he needed a hand presenting as there was "a little bit of space on the stage", and joked at one point "I don't care what the producers are saying back here, I think you're doing a great job."
Following the airing of the pre-recorded sketch which saw Ant and Dec reunited, Merchant said: "That other guy was good, you should do more stuff with him."
Dozens of fans – including fellow broadcasters Piers Morgan, Susanna Reid and Dermot O'Leary – congratulated Dec on his successful performance on social media.
O'Leary wrote on Twitter that Dec had "nailed it" – a call echoed by a number of other broadcasters including Rylan Clark and Gok Wan.
Reid wrote: "He's really easing into it and getting more comfortable as he realises how much the audience is with him."
Hundreds of viewers agreed saying he had done Ant "proud".
@Mitchinator9339 wrote on Twitter: "Dec did such a good job on #SaturdayNightTakeaway tonight.
"I know Ant would be proud of you. Here's hoping that he will do as great a job at Florida next week."
@SamdySonxxxxx posted: "@antanddec @itvtakeaway Dec you did yourself & Ant proud, it was a fabulous but emotional show, keep smiling. looking forward to next week."
@LauraJH55 tweeted: "So fantastic watching #SaturdayNightTakeaway tonight, Dec @antanddec did amazing with a brilliant end of the show show."
Dec, 42, who recently confirmed he is going to be a father, will also present next week's final episode in Florida.
McPartlin has stepped back from his TV commitments and returned to rehab after he was charged with drink-driving earlier this month.
He will appear in court on April 4.