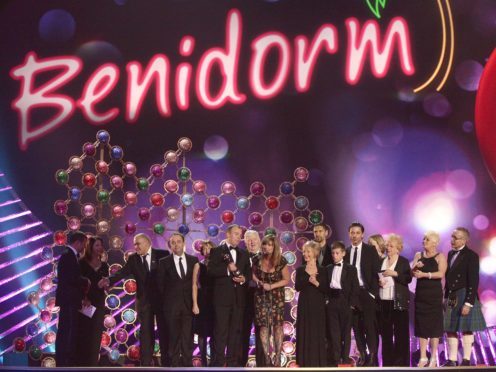 TV comedy Benidorm will air its final ever episode on Wednesday night.
The ITV show – which has been running since 2007 – was revealed to be coming to an end by creator Derren Litten earlier this week.
Set in the Spanish resort, Benidorm follows an ensemble cast of holidaymakers and staff at the Solana all-inclusive hotel.
Now in its 10th series, the show has attracted cameos from the likes of Tony Hadley, Denise Welch, Bananarama, Dame Joan Collins and Cilla Black.
The sitcom has won a number of National Television Awards, most recently for best comedy in 2016 which it also claimed in 2015.
At some point its regular cast has included the likes of Johnny Vegas, Sherrie Hewson, Steve Pemberton, Sheridan Smith and John Challis.
Litten announced the news on Twitter, writing: "Crazy to think Wednesday will be the last episode of Benidorm!
"I created the series over 11 years ago, wrote it, guest starred in it and ended up directing it. It's difficult to think what else there is to do! Thank you for watching!"
Earlier this year a one-off documentary celebrating the show saw cast members discuss their relationship with the series and their characters as well as a behind-the-scenes look around the city, led by Litten.
There were also a number of secrets revealed by the cast including details surrounding a fight between characters Kenneth Du Beke (Tony Maudsley) and Joyce Temple-Savage (Sherrie Hewson).
Reminiscing about the first series, Litten said he expected to get a "free holiday in Spain" and perhaps meet some new friends.
"Well Spain is now my home and I have found a family," he said with a tear in his eye.
The show's current cast includes Challis and Hewson as well as Jake Canuso, Tim Healy and Nathan Bryon.
Benidorm airs at 9pm on Wednesday on ITV1.