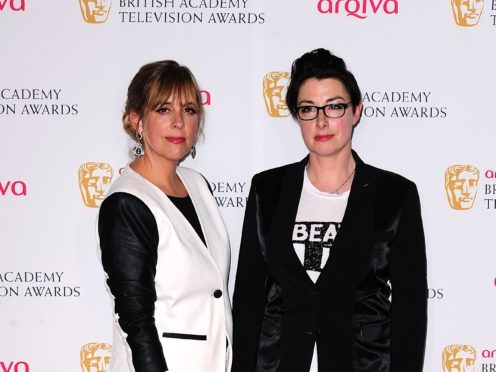 Celebrities were among those to react after ITV football commentator Sam Matterface made a reference to TV presenters Sue Perkins and Mel Giedroyc during live coverage of a World Cup match.
When Argentina player Cristian Pavon came on as a substitute during the South American side's group D match against Iceland, Matterface name-dropped the former Great British Bake Off hosts and Hollywood actress Kirsten Dunst.
Describing Pavon, Matterface said: "He's only five-foot, five inches tall, which is the same height as Kirsten Dunst or Mel from Mel and Sue."
After Matterface made the comment, Perkins and Giedroyc began trending on Twitter in the UK.
Pavon's Wikipedia entry was also altered so that the second sentence of the opening paragraph said: "He is the same height as Kirsten Dunst and Mel from Mel and Sue."
BBC Breakfast and sports presenter Dan Walker was among those to react to the unusual fact on social media.
Walker wrote on Twitter: "Anyone know how tall Mel from Mel and Sue is? #ARGICE ( crying with laughter emoji)".
In his reaction to the match ending in a shock draw between the two teams, Walker jokingly wrote: "Well played Iceland. Great draw.
"They've won the same number of World Cup games as Mel from Mel and Sue and Kirsten Dunst."
Former Hollyoaks actor and Strictly Come Dancing contestant Danny Mac also shared his disbelief about Matterface's remark.
He wrote: "Did he just say 'the same height as Kirsten Dunst or Mel from Mel and Sue? WTF? Someone surely just lost a bet!"
Singer Robbie Williams caused controversy when he put his middle finger up at the camera during the World Cup's opening ceremony in Moscow.
The offensive gesture was not aired on ITV which was broadcasting the event in the UK. However, it was seen on US network Fox, who later issued an apology.