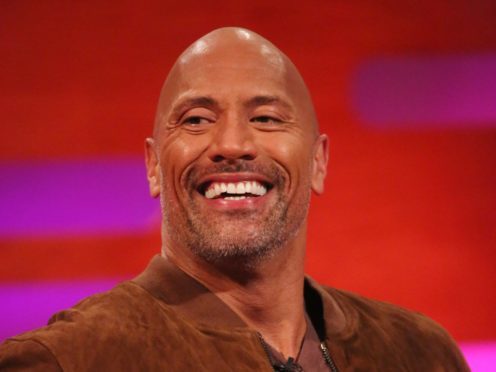 Dwayne "The Rock" Johnson joked he had to "catch up" with James Van Der Beek as he congratulated the Dawson's Creek star on the birth of his fifth child.
Van Der Beek, 41, tweeted the former wrestler with a picture of himself cradling his newborn baby, his fifth child with wife Kimberly.
The girl, Gwendolyn, arrived on Friday, the actor confirmed.
The picture was accompanied by the hashtag #NewbornChallenge and father-of-three Johnson, 46, replied to the tongue-in-cheek message, joking he had to "catch up".
He wrote: "Haha perfect. Congratulations my friend on #5. I got some work to do to catch up. I'll stay practicing lol. #NewbornChallenge."
Van Der Beek, also father to Joshua, six, Olivia, seven, Annabel Leah, four, and two-year-old Emilia, announced the birth of Gwendolyn in a lengthy Instagram post on Sunday.
The American actor, best known for his portrayal of Dawson Leery in teen drama Dawson's Creek, criticised Donald Trump for his controversial policy of separating immigrant children from their parents at the border.
Alongside a picture of his young family surrounding their new arrival, he wrote: "As I write this, kids are being ripped from the arms of their parents. By our government. For the kid's benefit? No – the opposite – as a purposeful display of cruelty to deter would-be illegal border crossers AND legal asylum seekers (it's happening to both). And it wouldn't be honest to wax poetic about my new-baby bliss without speaking up against this atrocity."
The post further criticised Trump before adding: "A crime against humanity is a crime against us all."
On Sunday, as the debate on the issue intensified, the president remained quiet until tweeting that Democrats should work with Republicans on immigration before the midterm elections in five months "because you are going to lose!".