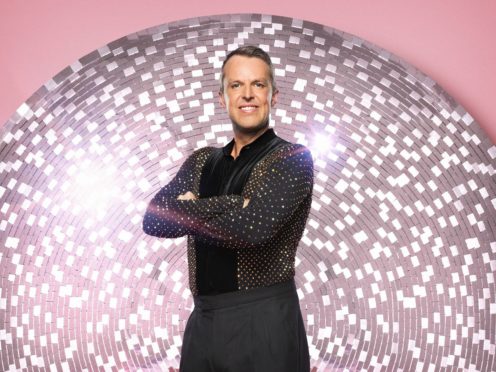 Graeme Swann has said there is no place for bullying in the workplace after his Strictly Come Dancing co-star Danny John-Jules was at the centre of reports about a row with partner Amy Dowden.
The professional dancer has since said she "never felt threatened" by the Red Dwarf star as she addressed their clash.
Swann said: "I haven't spoken to him about that. You know you don't get to see people with their dance partners through the week, only if they're in the next studio to you.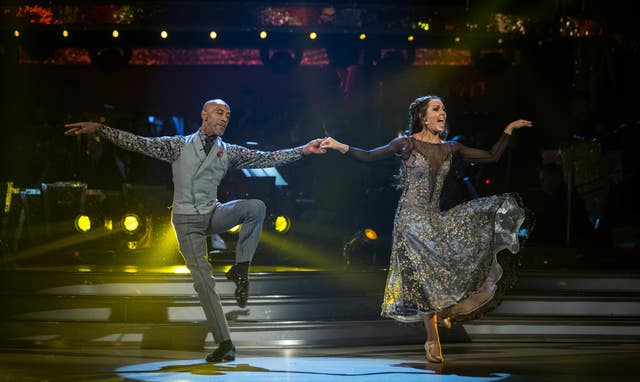 "All I do know is that Amy's a fantastic girl."
He added: "I haven't seen Danny so I haven't spoken to him, haven't seen Amy either. I hope there's no truth in it because bullying in the workplace, there's no place for that."
John-Jules and Dowden reportedly had a disagreement in the dance studio on Wednesday, which led to Dowden walking out of a session, before resolving the row and returning to training.
A source has denied claims that John-Jules was given a "final warning".
The duo have set the record straight about the row, with John-Jules joking that he would never "argue with a Welshwoman".
Appearing on Strictly: It Takes Two on Friday, Dowden, 27, said: "Things did get a little bit intense the other day in rehearsal, but you know what, we took a half-hour break and then got straight to it.
"I never felt bullied or threatened by Danny, I really want to get this man to Blackpool, and then to the final."
Red Dwarf and Death In Paradise star John-Jules, 58, added: "All I can tell you is that the only reason I'm here, this far, is because of Amy, and I'd never bite the hand that feeds me."
Swann revealed he has previously clashed with his own professional partner, Oti Mabuse.
He said: "We've only had one row. We've had one fallout. I think it was Thursday before the jive.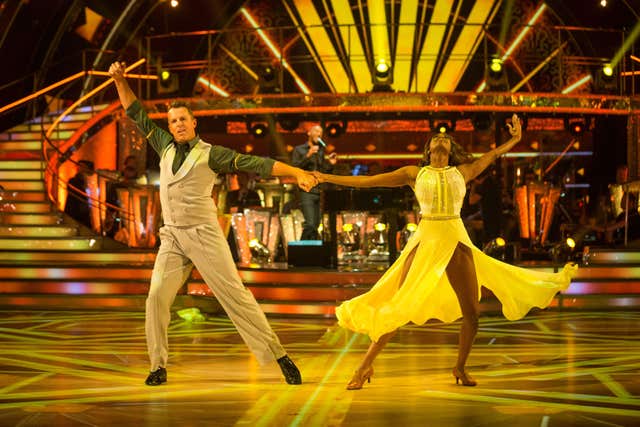 "And there's a bit that she put in earlier in the week saying 'I'm putting this in'. I couldn't do it and I worked tirelessly for days to make sure I could do it, and then she tried to take it out because I was rubbish at it.
"And I got really offended and demanded it be kept in. And we ended up having a blazing row and she stormed out and left me feeling really stupid and sheepish inside.
"I'm terrible in fights, especially with women, because I say things that I immediately regret and apologise mid-argument and so I went straight to the kitchen and made her a green tea and we hugged and it was all great.
"And on the Saturday when we nailed the jive when I was dressed in full pink, her new jive rather than the one that I messed up, it was all smiles.
"But just to wind her up, I started jiving in front of her the other day and put my old move back in it and I thought she was going to kill me on the spot. It was great."
Swann, who performed a salsa to Follow The Leader by Soca Boys on Saturday night, said the training has left him in the best shape of his life.
He said: "I'm down to the size and weight I was when I was about 19 which is incredible really because I'd kissed those days goodbye.
"I actually got a pair of jeans out of the drawer the other day that I'd bought by mistake about two years ago and they were a 32 inch waist and I tried them on and there was about an inch too little fabric.
"Just out of curiosity I tried them on last week and I had an inch to spare in them. So the transformation has been incredible.
"I've lost about two-and-a-half stone, I feel fantastic. Dare I say it, after a spray tan it's the best I've ever looked as well."
Strictly Come Dancing continues on Sunday on BBC One at 7.50pm.