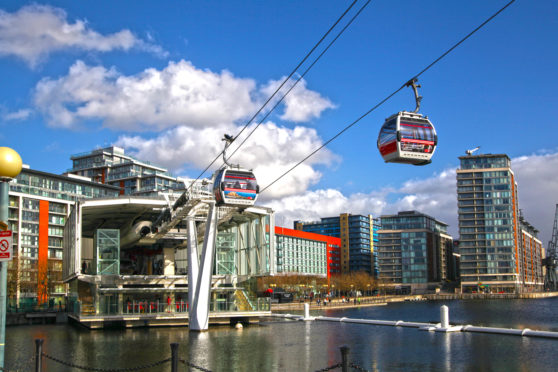 Ambitious plans to build a cable car at Aberdeen's shorefront could be about to take a major step forward as financial backers are being sought to turn the concept into a reality.
In 2017 a group of like minded people, led by Aberdeen and Grampian Chamber of Commerce (AGCC), set about coming up with an array of ideas to revitalise the city.
Some of these involved "small and quick changes" like finding ways to introduce outdoor seating.
But one, to build a Barcelona-esk cable car between the beach, Citadel and Nigg Bay, has been touted as an idea which will not only give the Granite City the "wow" factor but also regenerate the respective areas.
Now after more than a year of working on the concept the members who make up the Vanguard group are ready to take their pitch to the local business community in the hope of securing £15,000 for a feasibility study.
Architect Chris Smith, who works for Davidson Smith Partnership, came up with the concept.
He said: "This idea was born out of the discussion which continues to dominate within the Vanguard – how do we revitalise and rejuvenate Union Street? With the new south harbour soon to open and the cruise ships on their way, we feel this is a huge opportunity to bring thousands of people directly into the Castlegate, on a new and exciting, sustainable mode of transport, as a way to rejuvenate the area, including Union Street, through increased footfall."
The project has attracted support from regeneration tsar Sir Howard Bernstein who has frequently visited the Granite City to advise on ways to improve Aberdeen.
Russell Borthwick, chief executive AGCC, added: "The Vanguard programme, supported by the chamber, put forward a number of innovative ideas to make good stuff happen in the region and galvanise civic pride, such as parklets which will be on the streets of Aberdeen this summer.
"There was also a plan for a cable car from the new South Harbour across the existing harbour to Aberdeen city centre, which may seem a bit crazy, but ticks many boxes. It could be powered by wind energy, it could transport up to 3,000 passengers per hour including a park and fly facility and a direct and scenic route for cruise ship passengers docking at the new harbour to come into Aberdeen via the beach and Castlegate, supporting regeneration of those parts of the city. It would be our iconic attraction – we don't have Kelpies or an Angel of the North – this could be ours.
"Vanguard is an independent, voluntary movement and as such are looking to raise £15,000 from businesses and other supporters to fund a full feasibility study led by a specialist engineering group to understand whether the scheme has financial and practical merit. Anyone interested in finding out more should contact the Vanguard through Aberdeen Grampian Chamber of Commerce."