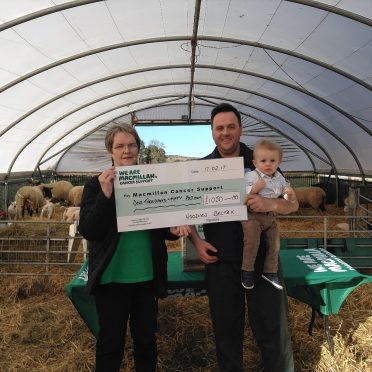 A well-known pedigree sheep breeder from the north-east has raised more than £1,000 for charity.
Stuart Wood, who runs the Woodies flock of Beltex sheep at Woolhillock, Skene, Aberdeenshire, launched a fundraising drive for Macmillan Cancer Support.
The flockmaster used social media to sell some in-lamb ewes, selling raffle tickets at £25 a go, with 40% of proceeds going to Macmillan.
The first lot on offer was a pen of four Suffolk ewes in-lamb with twins to a top Woodies Beltex sire. Due to the rush in demand, Mr Wood decided to offer a second lot for sale – a pen of four Mule gimmers in-lamb with twins to Woodies Beltex sires.
Margo Stewart – chairman of the Huntly area Macmillan Cancer Support committee, drew the lucky numbers and accepted a cheque for £1,050 from Mr Wood and his young son Murray.
The pen of Suffolk ewes went to Deirdre Wylie, Balbrydie, Kirriemuir, while Raymond Smith of Townhead Road, Inverurie, will be helping sons Ross (7) and Scott (6) lamb the four Mule gimmers to start off their own flock.