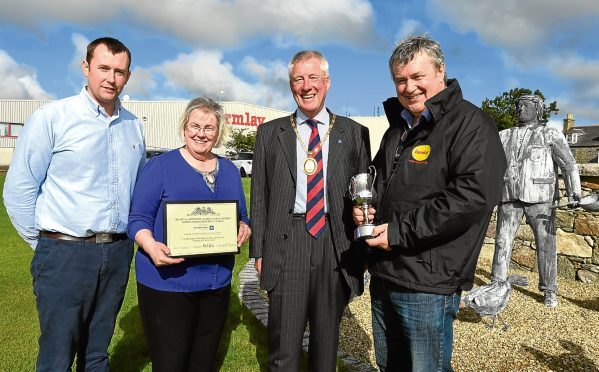 The largest egg packer in the north of Scotland has been named as the winner of the Royal Northern Agricultural Society's good farming practice award.
The award, which is run sponsored by Aberdeenshire Council, celebrates a farmer in the region who is showing good practice in his or her farming business.
This year's winner is the Chapman family – Robert and Ethel and their son Iain – who run Farmlay Eggs at Wester Cockmuir Farm, near Strichen.
The runner-up award went to the Willis family's organic dairy farming enterprise at Glasgoforest, Kinellar.
The award's judge – well-known agricultural consultant and NFU Scotland treasurer Gerald Banks – said it was a closely fought contest.
"Both businesses showed fantastic management and fantastic attention to detail. Everyone was a fantastic example of farm management," said Mr Banks.
Presenting the awards at Wester Cockmuir, Aberdeenshire Council provost Bill Howatson praised both farming families.
He said: "The good farming practice awards are probably more important now than they ever were before because we are facing some challenges as we head towards Brexit.
"What we are clear about is the leadership and the inspiration that both the winners are making and that contribution is encouraging. These exemplar businesses will be vital to shape farming in the future."
The Chapman family's winning business packs around 4million eggs a week for Morrisons, Aldi and Lidl in Scotland. The family also supplies the Aberdeenshire Choice range of eggs into Tesco stores.
Just under half the eggs are produced at Wester Cockmuir, with the remainder sourced from a group of more than 20 contract producers from across Aberdeenshire, Moray and Kincardine.
The family recently invested £3.5million in a new grading facility complete with five robots which has increased efficiency.
Meanwhile, William Willis milks 145 cows on an organic system at Glasgoforest alongside his mother Anne and brother Angus.
A close focus on grass has resulted in more than half of the herd's average 8,000-litres per cow yield being produced from forage.
The family is currently in the process of installing an on-farm vending machine for unpastuerised milk.