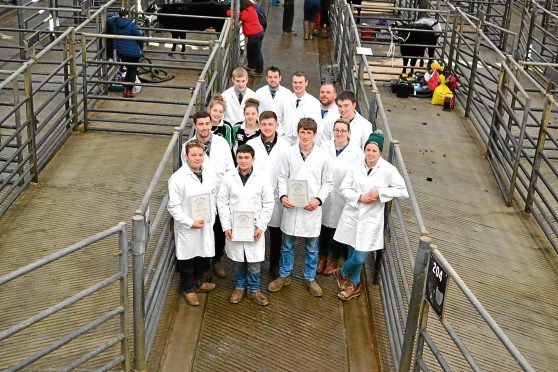 Young farmers from across the north of Scotland competed in a range of competitions at the Scottish Association of Young Farmers' Clubs (SAYFC) north region agri weekend.
Competitors gathered at ANM Group's headquarters at Thainstone, Inverurie, for a day of beef cattle dressing, prime lamb dressing and agri-skills competitions.
The cattle dressing contest attracted an entry of seven teams, which were judged by Steve Smith, of Sunnyhill, Turriff, and Malcolm Allan, of Uppermill Farms, Kintore.
The winning team was a duo from Keith YFC, Darren Davidson and Kyle Copper. East Mainland YFC's Scott Drever and Gareth Scott were placed second. Third place went to Stephen Birnie and Mark Leggat, from New Deer YFC.
First in the junior section was Keith YFC's Stuart Pirie and Richard Davidson, and Katie Meston and Nicola Howie, of Mid Deeside, were placed second.
The prime lamb dressing contest was judged by Graeme Christie, of Newton of Balquhain, Pitcaple, and Zoey Rennie, of Newmill, Keith, with stock provided by Stuart Wood, of Woolhillock, Westhill.
First place went to New Deer YFC's James Scott and Scott Elphinstone, with Udny JAC's Amy Reid and Gemma Bruce placed second. First in the junior section was Echt YFC's Ellie Miller and Lyndsey Brown, and Udny JAC's Angus Riddoch and Rachel Milne came second.
In the agri skills contest, teams were tasked with completing various tasks including ATV driving, a health and safety quiz, a challenge to hitch on a fertiliser spreader, and a forklift handling test.
Top prize went to a team from Garioch YFC comprising Daniel Skinner, Stuart Coxon and Ewan Simpson, while second went to Udny JAC's team of Tom Bruce, Euan Frank and Peter Smith.
Third place was awarded to Echt YFC's team of Craig Brown, Scott Brown and Stuart Wilkie.
Lastly, the day concluded with the north junior speechmaking elminitions, judged by Janelle Anderson, Elisabeth Watt and Kathleen Swanson.
The trio awarded their first place rosette to a team from Turriff comprising Fraser Chapman, Kirsty McKay and Natalie Mackie. Second place went to Sandwick's Balfour Hay, Anja Hall and Rachael Dunnett, while third went to Udny's Jamie Davidson, Rhea Work and Angus Riddoch.
The prize for the best chairman went to Sandwick's Balfour Hay, while Udny's Rachel Milne took home the prize for the best proposer. Lastly, prizes for the best opposer outwith the winning team were awarded to Shannon Foubister, from East Mainland, and Rhea Work, from Udny.