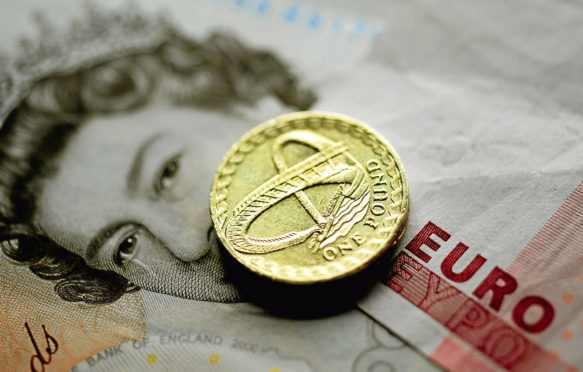 The effects of exchange rate fluctuations on farm profitability have been largely ignored in the Brexit debate – but farmers were this week reminded that swings in the value of the pound would continue to play a key role in the industry's future fortunes.
The issue came under the spotlight at Thursday night's Brexit road show in Stirling, organised jointly by Quality Meat Scotland (QMS), Scotland's Rural College (SRUC) and AHDB.
Industry stalwart John Cameron asked why this crucial factor had been excluded from all the modelling exercises carried out by the AHDB when assessing the effects of various scenarios on different sectors of the industry.
In response the organisation's senior insight analyst, Sarah Baker, said it had been left out because exchange rate variance was "omnipresent" in the farming sector – and had always played a role.
She said: "So in order to look at a manageable number of variables under the different scenarios, it was left out of the equation."
However SRUC senior consultant, Julian Bell, said changes in the value of Sterling were currently operating "as a hedge against political chaos".
He said: "In fact the currency situation could be looked upon as a barometer of how the Brexit negotiations are going at any given time.
"Whenever the UK says or does something wrong the pound weakens – but if negotiations show some signs that they might actually be progressing it strengthens again."
He said the huge drop in the value of the pound which occurred after the referendum vote had resulted in a significant boost to Sterling prices for UK farmers – and had also boosted the Sterling value of their support payments.
However a warning was issued by SRUC economist, Steve Thomson who said there was a risk that exchange rate movements could lead to a disappointment for farmers in the levels of support promised by the UK Government up to 2022.
He said: "For while farmers have been promised that the overall pot of support will 'remain largely the same' through to the end of the current Government, no actual figure has been put on what this will be.
"Given that the payments are actually set in Euros rather than pounds, if the exchange rate from the beginning of the current Multiannual Financial Framework for 2014-2020 was used to set the figure then we could be looking at support payments which are 20 per cent lower in Sterling terms than those currently being received."