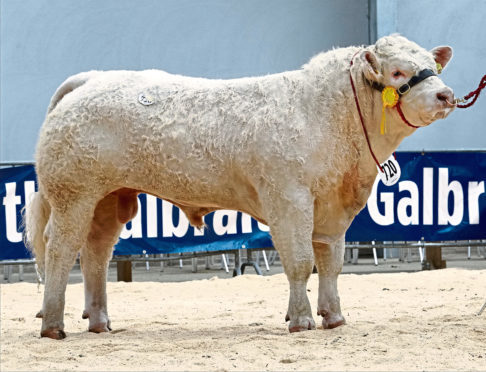 A top price of 9,200gn was paid in the Charolais sale at the Stirling Bull Sales.
Leading the sale was a fourth-prize bull from Hamish Goldie, South Bowerhouses, Ruthwell, Dumfries.
September-2016 born Goldies Moonlight, by Grethanhouse Heman and out of Goldies Judy, sold to Colin Morrison, 6 Rhughasinish, Lochcarnan, Lochboisdale, South Uist.
Next best at 8,000gn was the reserve champion, as judged by Neil Blyth of Middleton House Farm, Elwick, Hartlepool.
This was June-2016 born Thrunton Meastro, by Thrunton Gladiator, from Ian, Bruce and Andrew Campbell, Thrunton Farm, Alnwick. He sold to G Wilson & Son, Fichlie, Glenkindie.
Thereafter, 7,800gn was paid for another entry from Hamish Goldie – Goldies Moonbeam, by Goldies Jetset. The buyer was Macintyre, Glenhervie Farm, Southend, by Campbelltown, Argyll.
Two lots then sold for 7,500gn. First at this price, selling to Liam Muir of Upper Onston, Stenness, Orkney, was Goldies Mercedesbenz, by Goldies Formidable.
The other, selling to the RSPB for its Loch Gruinart Reserve on the Isle of Islay, was Spittalton Newton, by Woodpark Elgin, from J Burnett & Sons, Upper Spittalton, Blair Drummond, Stirling. Other leading prices included: 7,200gn for Goldies Michael, by Gretnahouse Heman, from Hamish Goldie, selling to Aitken Bros, Riccarton Farm, Linlithgow; 6,500gn for Ballieston Mint, by Maerdy Hasse, from W R Baillie, Biggings, Toab, Deerness, Orkney, selling to Greenpark Farms, Balerno; and 6,200gn for Spittalton Maverick, by Whitecliffe Highlight, from J Burnett & Sons, selling to Charlie Adam, Braeside, Leochel, Alford.
Two lots sold for 6,000gn including Harestone Macbeth, by Thrunton Fearless, from Neil and Stuart Barclay, South Road, Insch, selling to Alan Mowat & Sons, Quoynee, Halkirk, Caithness.
The other was Kersknowe Messiah, by Inverlochy Fencer, from John Jeffrey, Kersknowe, Kelso, selling to T Dun & Sons, Brothershiels, Heriot.
The pre-sale champion sold for 5,800gn to June Mackenzie, The Glebe, Boat of Garten.
This was December-2016 born Firhills Majestic, by Maerdy Grenadier, from Jim and Alison Muirhead of Firhills Farm, by Arbroath.
In all, a clearance rate of 82% was achieved.