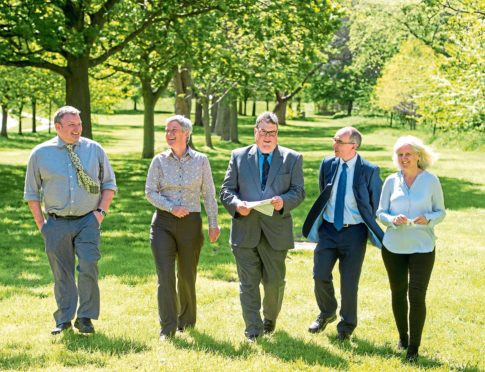 Failure to provide targeted financial support to farmers and crofters in the Highlands and Islands after Brexit could lead to a modern version of the Highland Clearances.
That was the warning from Highlands and Islands Agriculture Support Group chairman Douglas Irvine at the launch of a report into post-Brexit implications for agriculture and land use in the region.
"If we don't get this right I think we are staring in the face of a 21st Century type clearance," said Mr Irvine, who is also economic development manager for Shetland Islands Council.
"This report is a wake- up call and shows us how important farming and crofting is to the economy, people and environment of the Highlands and Islands, but also how vulnerable it is."
The report, compiled by Andrew Moxey of Pareto Consulting and Steven Thomson from SRUC, highlighted the challenges Brexit could pose to farmers and crofters in the region.
It concluded that loss of direct subsidy support and the adoption of a cheap food policy, whereby unilateral tariff-free trade deals are created, would be catastrophic for the region.
It states: "Extensive livestock grazing across the region is vulnerable to potential Brexit-induced price reductions and, especially, to the removal of income support measures.
"This will accelerate existing trends of declining agricultural activity, land abandonment and a shrinking agricultural workforce, with limited scope for alternative land use activities."
Mr Thomson said the Highlands and Islands was heavily reliant on rough grazing for extensive beef and sheep enterprises.
Comparing the region to the rest of Scotland, he said livestock density was 0.12 units per hectare in the Highlands compared to 0.57 in the rest of the country, and output was £91 a hectare in the Highlands and £691 in the rest of Scotland.
Mr Thomson added that a high proportion of the country's protected areas and high nature value farming was in the area.
He said: "Not only are farmers (in the area) dealt a harsh hand in terms of the land being poor quality, but they also face restrictions in terms of what they can do with that land."
Mr Moxey said the strong environmental benefits of land management in the region fitted well with the UK Government's desire for future agricultural support to award public money for public goods.
Both export authors said the report's findings provided a "compelling case for distinctive and targeted policy interventions" for the area.
They also argued that the vulnerability of farming in the region and the risk to public goods if people abandoned farming in the area meant it merited a higher share of funding in future.
Comment, Page 31