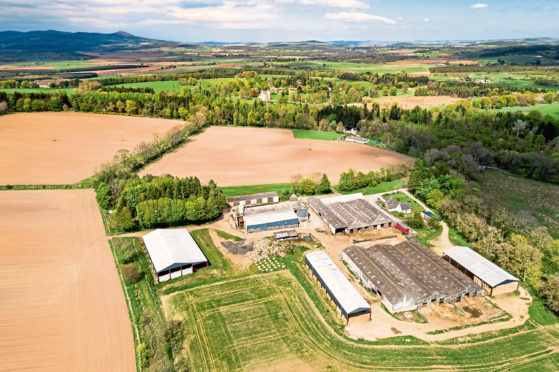 A range of Aberdeenshire farms, land and woodland has been launched to the market by Galbraith.
The portfolio, which is offered in lots, comprises two farms, two blocks of land, and two areas of woodland.
All were part of the former Castle Fraser Estate, and purchased by their current owner Richard Ratcliffe in the early 1990s.
Mr Ratcliffe, who also has farming operations including outdoor pig production near Elgin and enterprises in Devon, has put the farms up for sale due to a change in farming strategy.
Galbraith partner Tom Stewart, who is handling the sales from the firm's Aberdeen office, said: "It's quite a significant sale in terms of both quality and quantity. It's also significant in so far as the farms are exceptionally equipped with farm buildings."
He said while he expected local interest to drive the sales, there was likely to be interest from other areas of the UK and abroad.
The first farm offered for sale at a price £3.25 million is Courtcairn Farm, near Kemnay.
It comprises 734.43 acres of mainly Grade 3 (2) land, a traditional two bedroom farmhouse with bothy, a range of portal frame farm buildings and a telecommunications mast.
The buildings include capacity for 600 cattle and the mast provides an annual rent of £4,400.
The other farm for sale, on the market for £2.55m, is Cairnfold Farm, near Sauchen.
The sale includes a three bedroom farmhouse, a range of modern farm buildings, and 476.71 acres of mainly Grade 3(2) land.
The buildings include a grain store with a capacity of 3,000 tonnes and a weighbridge.
Meanwhile, two blocks of land are available near Dunecht totalling around 600 acres.
The first block of land at Corskie, extending to 329.38 acres and of Grade 3(2) quality, has a price tag of £1.18m, or just over £3,582 per acre.
The second block at Kinnernie, extending to 270.82 acres of Grade 3(2) land, is available for £780,000.
This equates to an asking price of around £2,880 per acre.
Lastly, the two blocks of woodland are available to buy in separate lots for a total of £240,000.
The first lot – Gallow Hill Woodland, near Kemnay – comprises 76.7 acres of mixed commercial woodland, with a large proportion approaching harvestable stage.
It is available to buy for £90,000.
The other lot of woodland – Corskie Woodlands, near Dunecht – comprises two accessible commercial woodland areas stretching across 124.76 areas.
It is available to buy for £150,000.