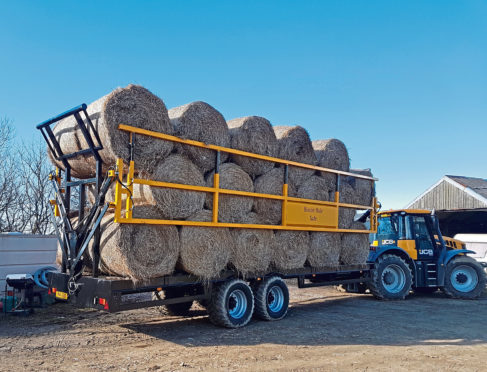 Inventive engineering is alive and well in agriculture judging by the latest crop of Royal Highland and Agricultural Society of Scotland (RHASS) innovation awards sponsored by Hillhouse Quarry Group.
From a fast-working sheep weigher to a hi-tech detection system for cows in heat, and from a self-securing bale trailer to a grain dryer that draws warmth from the ground, the new product silver medal winners all offer time and/or cost-savings for busy farmers.
Faster sheep and lamb weighing is the attraction of the magic-eye operated Scotsqueeze from Glenrothes-based 19-year-old James Leggat, who devised the electronics for the device built by his father Adam.
In place of a manually-operated crush, their device clamps automatically using sensor technology to detect animal presence and size.Electronic weighing and EID tag reading further automate the process, and the system is reckoned to also be a time-saver – and one that's less physically demanding – when there are worming, fly treatment and other interventions to be done.
A battery-powered hydraulic pump operates the smooth sides of the crush, which are released by a button or foot pedal, and the outfit is configured for towing from yard to field behind a pick-up or 4×4.
It took a lot of thought before Stephen Birnie and his family at Maud, Aberdeenshire, committed a self-securing bale trailer design to manufacture – but the device is now in production.
Eliminating the time taken to strap big bales on to a flat-bed trailer has made field clearance at harvest quicker and easier.
Bales are secured instead by a steel frame on each side raised into place by hydraulic cylinders on parallel linkage arms at each end of the trailer. Vertical extensions also deployed hydraulically enable three layers of bales to be transported securely.
Another silver medal will be awarded to Irish manufacturer Moocall for its new heat detection system, which uses a bull collar and cow ear tags to send a cow identification heat alert to a user's mobile device.
Northumberland-based Calibrate is recognised with silver for a heat pump system supplying warmed air captured from the ground to dry grain while earning renewable energy incentive payments.
Kverneland wins the same award for its electric drive Siloking eTruck self-propelled diet feeder – see new products preview on page four.
At the other end of the technology scale, Hampton Steel's steel fence straining post design will receive a commendation, as will two digital technology companies for their Cloud-based farm data platforms.
Kore, from Angus-based SoilEssentials, and KisanHub, based in Cambridge, bring together farm crop information and data in a format accessible to growers, their agronomists and other trusted partners.