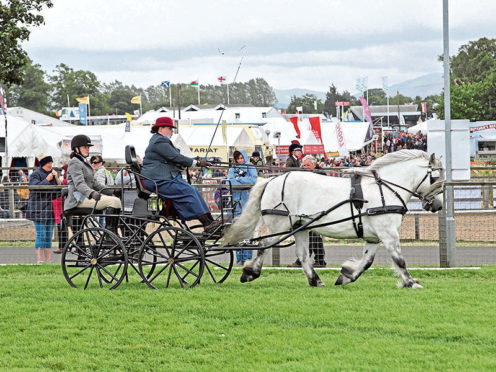 The Highland Pony Society's breed show returns to the impressive grounds of Strathallan Castle, near Auchterarder, this weekend, and it looks set to be a spectacular affair.
Numbers are up on previous years with 210 ponies entered – 165 of those in the in-hand classes – and exhibitors are entered from as far afield as Buckinghamshire and Sutherland.
The event, which began in the early 1980s, moves back to the 1000-acre Strathallan Estate following four years away at Brechin Castle and Highfield at Howe, due to T in the Park restrictions.
Strathallan itself has breed connections, being owned by Anna Roberts, who breeds Highland Ponies.
Indeed, this year Anna showed a home-bred mare with foal at foot at the Royal Highland Show for the first time, and a month earlier she took the champion of champions honours at Gargunnock Show with her mare, Tower Misty May.
Last year's event, held at Howe, saw the in-hand championship go to Westray of Alltnacailleach from Heather Gow, while the supreme ridden championship went to Ruby Rose of Strathmore from Katherine Bowling-Hartenfeld.
Judging of the in-hand classes this year is in the capable hands of Gillian McMurray of the Trailtrow Stud, Lockerbie.
Gillian was brought up in St Andrews and worked at Blair Castle with Highland Ponies from the mid-1970s during her breaks from university. She currently keeps around 16 ponies and competes alongside her daughter Kirstin.
She is particularly interested in performance, with most of her ponies having successful ridden careers in all disciplines before being used for breeding.
Gillian's home-bred ponies have won championships at the Royal Highland, the breed show, Blair Castle, HOYS and Olympia amongst many others.
She became a Highland Pony Society judge in the 1980s and an NPS judge in 2002, followed by inclusion on the BSPS panel. She has judged from Cornwall to the Black Isle with many in between, including the Highland on several occasions, and she is just home from a judging stint at the Royal Norfolk.
Sunday's event also sees another eight judges in the rings as the show includes ridden classes for novices, juniors, veterans, as well as an open class and a ridden HOYS qualifier.
Then there are working hunter and dressage classes, private driving, working harness and young handler classes, as well as trade stands and catering outlets, so there will be plenty to see and do.
Breed society president, George Baird said: "With great weather forecast and a spectacular setting, it looks set to be a great and very successful event."
Judging begins at 8.30am on Sunday and runs throughout the day. Admission and parking is free.
Meanwhile, the Highland Pony breed finds itself in very good health.
Breed secretary, Susie Robertson said: "We are very fortunate to have seen only a marginal fall in registrations and with our membership increasing, we also have many more single pony owners joining us."
She said the society had recently moved into new premises at Garbh Allt House, Maidenplain Place, Aberuthven in Perthshire. The name is a nod to the Society's patron HM the Queen as Garbh Allt is a much-treasured part of Balmoral Estate.