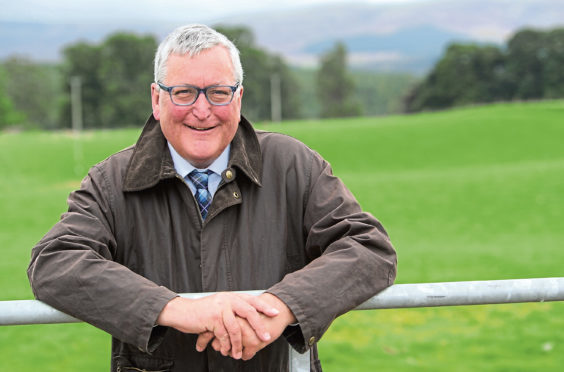 A government taskforce is to be established to develop a new, simplified farm and rural support payments system.
Rural Economy Secretary Fergus Ewing announced the plans during a statement to the Scottish Parliament on the Common Agricultural Policy (Cap).
"I can advise parliament that we will get on with establishing a taskforce to produce measures which will simplify the farm and rural support payment system from 2022 onwards," Mr Ewing told MSPs.
"The taskforce will be led internally and involve external stakeholders and contributors. Crucially, we want to ensure that the future of farming is represented through the inclusion of young farmers on the taskforce."
Mr Ewing also renewed pleas for the UK Government to rectify the long-standing issue of convergence uplift.
This is extra Cap monies which were allocated to the UK from the EU to bring Scotland's per hectare subsidy support figure more in line with the European average.
Scottish farm leaders have long disputed that the distribution of Cap monies within the UK is unfair and that Scotland was not given this money.
Mr Ewing said Scottish farmers had been short-changed to the tune of £160 million.
He said failure to rectify the issue meant future funding allocations, beyond Brexit, could be based on historic payment rates and Scottish farmers and crofters may continue to lose out.
Banff and Buchan Coast MSP Stewart Stevenson backed Mr Ewing's plea.
He said: "Westminster has long promised a look at why Scotland's convergence money didn't come to us.
"We have the lowest per acre payment of any country in the EU and the £160m which was to be provided recently should have gone to offsetting that – but instead disappeared into the abyss."
Scottish Conservatives rural affairs secretary Donald Cameron accused the Scottish Government of keeping farmers and crofters in the dark about future policy.
He said: "Once again, we've failed to see any policy detail from the SNP government on a future system of support for Scottish agriculture.
"There continues to be a total lack of clarity on this issue from the cabinet secretary, and as a result Scotland is being left behind amongst other nations in the UK when it comes to future farming support."
Scottish Liberal Democrat spokesman on rural affairs, Mike Rumbles, agreed and said: "The cabinet secretary is more occupied with picking fights with his counterpart in the UK Government."
NFU Scotland political affairs manager, Claire Slipper, said: "Given the pressing need to give certainty and clarity to our producers, a speedy timetable for the taskforce to take forward its discussions must be set."