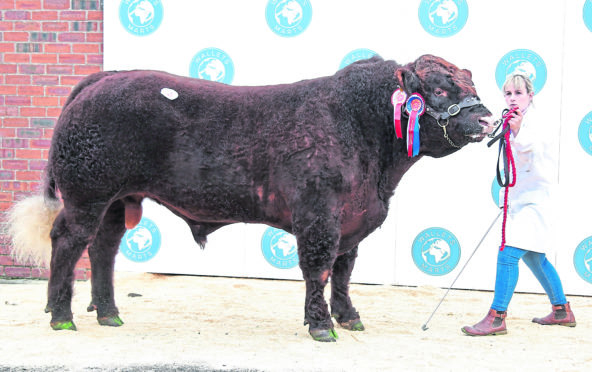 The supreme champion at the Salers Cattle Society's show and sale at Castle Douglas made the joint top price of 9,000gns.
Neil Barclay from Insch, Aberdeenshire, runs the Harestone Salers herd and his two-year-old bull Harestone Lamborghini, which was also male champion, was bought for 9,000gns by Peter Alexander, Mains of Mause, Blairgowrie.
The other 9,000gn bid was for Drumaglea Legend, a two-year-old bull from Patrick Boyd, Drumaglea, Cornaigmore, Tiree, which was bought by John Martin, Swinlees, Dalry, Ayrshire.
A bull from Gill and Malcolm Pye's Redrock herd at Redrock House, Port of Monteith, Stirling, went under the hammer at 5,500gns and was bought by Peter Alexander while a bid of 4,800gns from John Mitchell & Co, Rumbletonrig, Greenlaw secured the July 2016 born bull Redneck Lauper also shown by Gill and Malcolm Pye.
Another of Patrick Boyd's consignment, the March 2016-born Drumaglea Lord of the Isles realised 5,000gns to W Duncan and Co, East Ledken, Insch, with another, Drumaglea Lusty selling to J&A McCulloch of Glentoo, Castle Douglas.
Mr Barclay also received a 4,800gn bid for his Harestone Landward, a two-year-old intermediate male, which was sold to W&AM Aitken, Scotchstonbank Bank Farm, Blythe Bridge.
J&A McCornick of Drumjargon, Whauphill, Wigtownshire, paid 4,500gns for the rising three-year-old bull Carrick View sold by George McCall, Collone, Northern Ireland.
Also at 4,500gns was the senior male, Darnford Lars from David Watson of West Raedykes, Darnford, Banchory, and purchased by George Ritchie and
Sons, Montalt Farm, Dunning.
Colin McClymont of Cuil Farm, Palnure, Newton Stewart, received 4,200gns for his intermediate bull, Cuil Lat from RA Austin of Boreland of Girthon, Gatehouse of Fleet, who also went to 3,00gns for a bull from EA Elliott, Drumegagh, Newton Stewart in Northern Ireland.
In the female section Colin McClymont sold the top-priced second prize heifer in calf, Cuil Mabel, for 3,000gns to Andrew Hamilton Marr Farm, Thornhill.
He continued his successful sale when he received the second highest female price of 2,500gns for Cuil Lemon which went to Northern Ireland and he received further prices of 2,200gns, 2000s (twice), 1,900gns, 1800gns (5) and 1,700gns.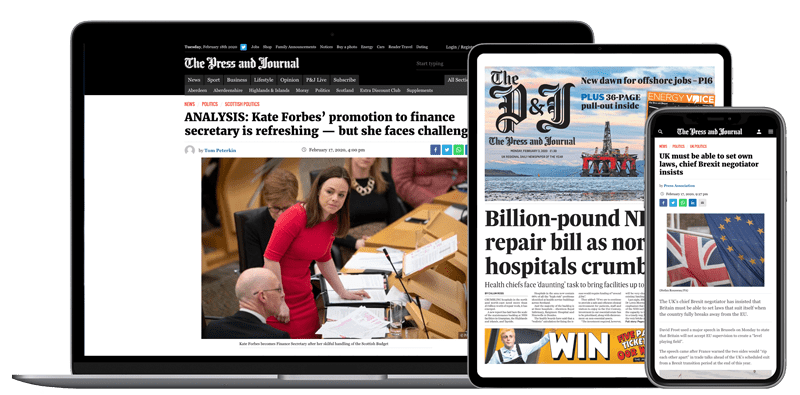 Help support quality local journalism … become a digital subscriber to The Press and Journal
For as little as £5.99 a month you can access all of our content, including Premium articles.
Subscribe