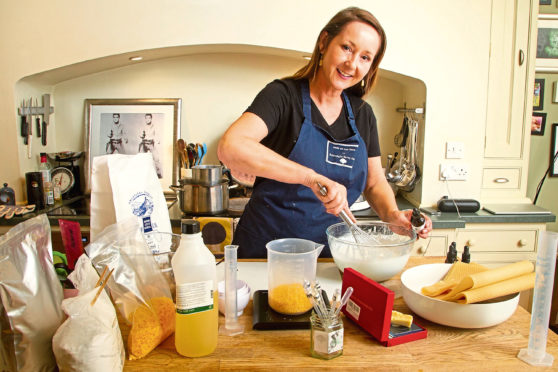 A move to make beauty products using as many locally-sourced ingredients as possible is paying dividends for Angus farmer's wife Michelle Porter.
Her business, Made on our Farm, has grown beyond expectations from its base in the farmhouse kitchen at Balhungie Farm, on the outskirts of Monifieth, near Dundee.
The soft fruit and arable farm is a hub of activity between the beginning of May and the end of August, when it opens up as a shop and cafe for people to come and buy fresh berries including strawberries, raspberries and blueberries.
Mrs Porter, who hails from Yorkshire, says she originally started making beauty products in a bid to raise funds for a charity she runs with her husband David.
The couple met while they were doing charity work in Namibia and their charity, ABC Africa, provides food, education and medicine to children in various African countries.
Projects supported by the charity include a scheme to provide food, immunisation and girls' hygiene kits to children in Mombasa, Kenya, and financial support for a nursery in a re-settlement community on the outskirts of Swakopmund, Namibia.
Mrs Porter, who previously worked as assistant director for education at the Save The Children charity, says she started out making a pillow spray, hand cream and a balm, and after realising how popular the products were she decided to start producing them on a more commercial basis.
Inspired by her grandmother's copy of Pears' Cyclopaedia – a book published in the late 1890s with recipes for various beauty products – and visits to a local apothecary shop, Mrs Porter set about making her own lotions and potions.
"I have just been on a perfumery course down in London, and we are launching the winter spice range and a new improved lavender range is coming out in the spring," said Mrs Porter.
Her products contain as many locally-sourced ingredients as possible, and all are made in the kitchen of her farmhouse with help from friends and family, including her 13-year-old daughter Bella.
Locally-sourced ingredients include lavender grown in the garden at Balhungie; beeswax from the nearby Downiemill Zwartbles, run by local doctors Lewis and Beci McNicol; and oatmeal from Aberfeldy Oatmeal, run by Sandy Gray at Carmyllie, near Arbroath.
"I feel strongly about supporting local producers and I want to create that connection with retailers," said Mrs Porter.
"This is very much a local farm kitchen enterprise."
She said a proportion of profits from both the beauty and fruit shop and cafe businesses are donated to ABC Africa, with the remainder of funds for the charity sourced through donations.
And on plans for the future, she says she is keen to stick to the roots of the business rather than growing too quickly.
"The idea is to pace ourselves so that we are not compromising quality and try to keep to sourcing locally," added Mrs Porter.
She praised retailers, including various farm shops across Scotland, for stocking her products and said they needed recognition for their efforts to source locally.
More information about Made on our Farm is available online at www.facebook.com/balhungieberryfarm while details about the charity can be accessed at www.abcafrica.org