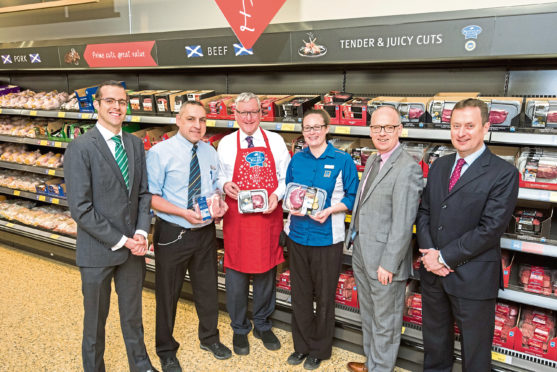 Farming leaders have launched appeals to festive food shoppers to buy Scottish when they do this year's seasonal stock-up.
Farm gate prices for lamb are currently buoyant but there is still no sign of a pre-Christmas boost in beef prices despite the expected increase in demand, leading NFU Scotland's livestock committee chairman Charlie Adam to call on consumers to support local food producers.
"The market situation ahead of the festive season has been a mixed bag for many of our livestock members. The prime lamb trade is very strong, and this is welcome following a year of challenging weather conditions," he said.
"However, the lower returns in the beef market coupled with the significant increased costs of farm inputs will be presenting challenges to farm business viability and those of us working in the sector would have liked to have seen a demand driven boost in prices ahead of the festive season.
"In these uncertain times, compounded by ongoing political turmoil, farmers and crofters need to see returns which provide their businesses with the financial security to invest and build resilience.
"If Scotland is to build its food and drink turnover then our iconic beef and lamb sectors must be able to invest in business efficiency".
Rural Economy Secretary Fergus Ewing has been backing supermarket Aldi's commitment to selling 100% Scottish beef, lamb and pork, and said the chain was sending a clear message to consumers that these products consistently deliver on taste and quality.
Mr Ewing added: "As people start to stock up for the festive period I would encourage people to 'shop Scotch' and buy Scottish produced, world renowned and assured red meat."
Further south, Alan Titchmarsh, an ambassador for The Prince's Countryside Fund, has also urged members of the public to support British farming families this Christmas.
In a short film he points out that winter can be one of the most difficult times of year for farmers.
He said: "The British countryside is idyllic, but the realities faced by those living and working in it can be harsh. It is vital that we ensure our rural communities and family farms have a secure future, and The Prince's Countryside Fund works tirelessly to do exactly that, helping to lift the weight off the shoulders of farmers across the UK."