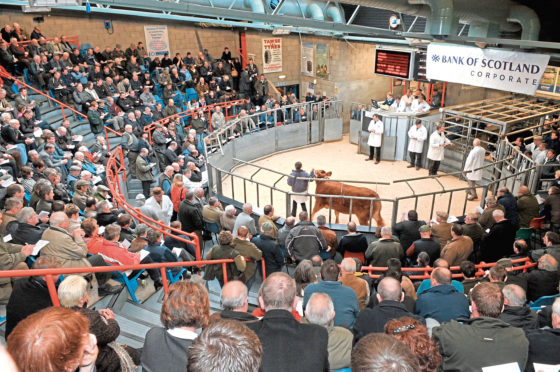 Scottish prime cattle prices have started 2019 4% down on this time last year.
Quality Meat Scotland said the drop in prices was down to a range of factors, however it was in line with European producers who are experiencing, on average, a 3% drop in prices.
The levy body's director of economics services Stuart Ashworth said the June 2018 census for Europe showed a decline in the breeding cow herd with dairy cow numbers down 0.5% and beef cow numbers down 1.4%.
"A smaller breeding herd points towards lower production in the coming months," he added.
Scottish calf registrations reduced by 0.25% in 2017 and in the 11 months to the end of November 2018 they had fallen by a further 2.5%.
Mr Ashworth said: "The volume of prime beef produced in Britain would only be maintained if carcase weights were to rise but even then, as the year progresses, production is likely to decline."
He said slaughterings of cows across the UK in 2018 were ahead of 2017 levels until November but it is unlikely these volumes will be maintained in 2019.
"Consequently, it seems likely that British and European beef production will fall as we move through 2019. This may not though be enough to support farmgate prices," said Mr Ashworth.
He said another factor affecting prices is a sharp decline in cattle hide prices, due to reduced demand for leather and an increase in cattle slaughterings. A very competitive meat retail market, both in terms of price and volume, was also likely to constrain prices.
Data from Kantar World Panel reveals that in the 12 months to November 2018 UK beef purchases for home use fell by 2% in volume and 1.5% in value.
Office for National Statistics data reveals the average consumer price of beef in November 2018 was 1.4% lower than a year ago, meaning lower prices had not stimulated demand.
Mr Ashworth said a stagnation in European beef consumption was predicted for 2019, and any growth in consumption was likely to come from developing countries.