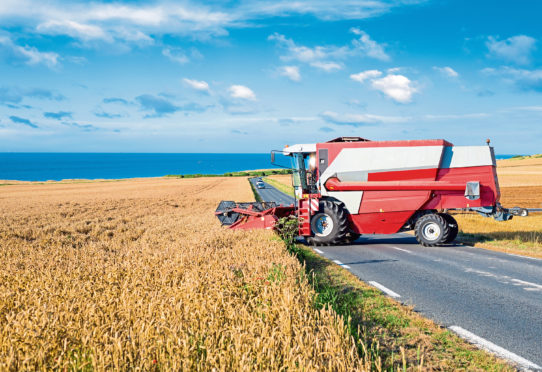 Farmers and crofters have been reminded to apply to Police Scotland for a special dispensation for the movement of wide agricultural vehicles.
NFU Scotland (NFUS) has urged everyone to make use of a scheme which allows members with wide vehicles to apply for a dispensation to avoid having to notify police for each individual movement.
Rules stipulate that a farmer must notify the police if a vehicle, or implement is over three-metres in width and-or projects more than four-metres, and is travelling more than five miles, and-or travelling on any road on with a speed limit of less than 40mph.
"It is vital that NFU Scotland members ensure that if they require a dispensation, they have applied for this and had it returned from Police Scotland ahead of moving vehicles," said NFUS legal and technical committee chairman, Jamie Smart.
"The union has worked hard to put this in place for farmers and crofters, and it is of benefit to save those carrying out wide vehicle movements the time and effort notifying each individual movement."
He said a copy of the dispensation document should be carried in vehicles it applies to and it should be produced in the event the vehicle is stopped by police.
An application form for the dispensation can be obtained from Policy Scotland or from NFU Scotland by calling 0131 472 4000.
If the application is successful, police will issue a dispensation letter which covers a full year and individual notifica-tions will only be required if a vehicle width exceeds the one applied for in the scheme.
One-off vehicle movements can be applied for from Police Scotland, however at least 48 hours' notice is required and farmers need to take into consideration public holidays and weekends applying.
Completed forms should be emailed to OSDAbormalLoadsScotland@scotland.pnn.police.uk