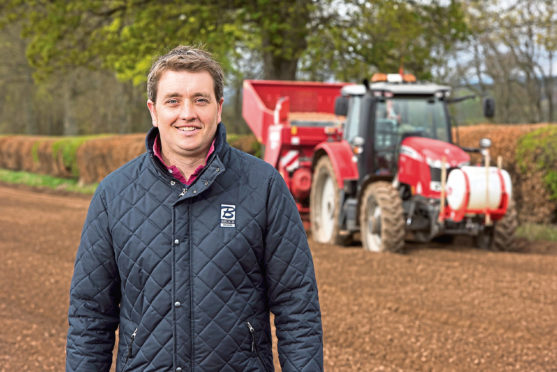 Advice on how to achieve high tattie yields with low input costs will be given at the final Strategic Potato Farm (SPot) open day next month.
The SPot project, run by levy body AHDB Potatoes, has taken place at Bruce Farms in Meigle, Perthshire, since 2016. It is a farmer-driven project which aims to give other growers the opportunity to examine and discuss new techniques and research.
The final open day for the project takes place at Strathisla Farms at Moolies, near Blairgowrie, on Tuesday, July 9.
Visitors will get the chance to view the final year trial plots, which are focused on cultivation depths, nutrition and seed spacing.
A golden plot has also been created bringing together the most effective treatments, which should have the highest yield, with the lowest input costs.
"When we got involved in this project back in 2016 we wanted to trial ways to reduce costs and improve yields and then to share those golden nuggets with the wider industry," said Bruce Farms potato farm manager, Kerr Howatson.
"I believe we have achieved that, and our golden plot brings all those things together in what should be our best performing trial."
AHDB senior knowledge exchange manager, Claire Hodge, said visitors will also hear about new blight strains, crop markets, and precision monitoring work which has been led by SoilEssentials.
She said: "One of the big areas of focus in terms of precision has been measuring soil moisture for irrigation planning. Bruce Farms currently have two systems – one which takes weekly readings, and another which continuously updates the levels.
"However, SoilEssentials have also been trialling a system which can measure the moisture via a satellite, which could be a cheaper and simpler system for growers to use, if it proves effective."
Mr Howatson said while some precision farming technology was beneficial, others had not proven their worth.
He added: "The industry really needs to feel confident the data provided is accurate and that it can then be used to improve your management on farm.
"For some tools, like those measuring soil moisture that is the case, but, in other areas, variable rate planting for instance, I would argue that much of the industry remains to be convinced that it is worthwhile."
Next month's event will run twice over the day so growers can attend either the morning or afternoon session.
Details about the event and how to book can be found online at ahdb.org.uk/events.