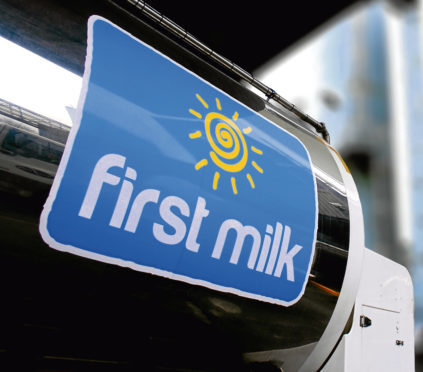 First Milk has hailed "significant year-on-year progress" despite a dip in pre-tax profits.
Accounts for the Glasgow-headquartered farmers' co-operative reveal pre-tax profits of £3.209 million for the year ended March 31 – down from £3.431m the year before.
Turnover for the year was up almost 8% to £272.256m, from £252.715m previously.
"Over the last 12 months we have been focused on further strengthening and developing the business, with stable financial performance, efficient manufacturing, strengthened commercial relationships and, crucially, improved returns to members," said First Milk chief executive Shelagh Hancock.
She said the co-op had a strong platform in place and it remained committed to maximising the value it returned to its members.
"We remain clear that prosperity comes from building demand, growing capacity and securing supply – in that order," added Ms Hancock.
"The dairy world is changing fast; economically, socially, technologically and politically. We will continue to be agile and adaptable, broadening our base and collaborating to deliver optimal supply chain solutions that deliver benefit for our members and our customers."
Earlier this month First Milk unveiled plans to scale down operations at its Campbeltown site ahead of it transferring ownership to local farmers, and to close its Arran creamery after failing to find a buyer for the site.
NFU Scotland milk committee chairman and First Milk supplier John Smith welcomed the results and said they followed some "dark times for the members of this farmer-owned business".
He added: "The deeply disappointing closure of the creamery on Arran along with the ongoing uncertainty around the creamery at Campbeltown underlines that the First Milk board strategy has shifted away from relatively small-scale speciality cheeses to heavily invested, industrial-scale modern creameries aligned to key marketing partners.
"That strategy exposes the vulnerability of First Milk members in remote milk fields like Kintyre and Arran.
"The sad inability to find a buyer for the Arran Creamery shows the harsh market reality that the food industry faces. The hope remains that something can be achieved for the future of the Campbeltown creamery which has the support of First Milk, Scottish Government and farmers."