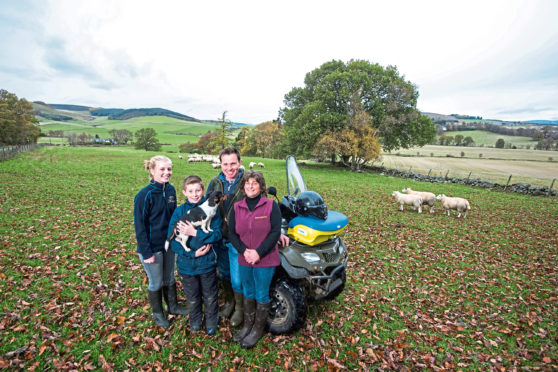 The hunt is on to find the best beef and sheep farms in Scotland.
Quality Meat Scotland (QMS) has issued a plea for entries and nominations for two prestigious awards – the AgriScot Scotch Beef Farm of the Year and the AgriScot Scottish Sheep Farm of the Year.
Both awards, which are sponsored by Thorntons Solicitors and supported by QMS, set out to find and reward Scottish farms or crofts which exemplify the best in beef cattle and sheep production.
Last year the sheep award was won by the McGowans who run 1,100 Lleyn ewes on the 1,200-acre Incheoch Farm, near Alyth, while the beef award went to father and son duo, Niall and Angus Jeffrey, who run two spring-calving units over three farms in East Lothian.
Neil McGowan said: "Farmers have the tendency to chip away quietly in the background and these awards are a great way to promote the efforts of farmers in Scotland and build confidence in our red meat industry.
"It's really encouraging to know that what you do is appreciated and that people think you have done a good job."
Niall Jeffrey added: "If you're passionate about the Scotch Beef and Scotch Lamb industry I would strongly encourage any livestock farmers to throw their hat in the ring and apply."
AgriScot event chairman, Robert Neill, encouraged people to put themselves, or someone they know, forward for the award.
He said: "We need to make sure that the great achievements by sheep and beef farmers in this industry are recognised and promoted to the wider public. By nominating yourself, or someone you know, you can help promote livestock farming in Scotland."
QMS director of industry development, Sarah Millar, added: "These awards are a fantastic opportunity to champion excellence in the Scottish red meat industry and recognise the commitment and passion producers have in producing top quality Scotch Beef PGI and Scotch Lamb PGI."
To nominate a farm for either award, email the details of the sheep and beef farms which you feel are doing a great job producing Scotch Beef and Scotch Lamb to info@qmscotland.co.uk. Applications forms are also available to download here.
The recipients of both awards will each receive a £500 cheque and a £250 voucher to celebrate their success at a restaurant in the Scotch Beef Club.
The awards will be presented at AgriScot event at Ingliston, near Edinburgh, on November 20.