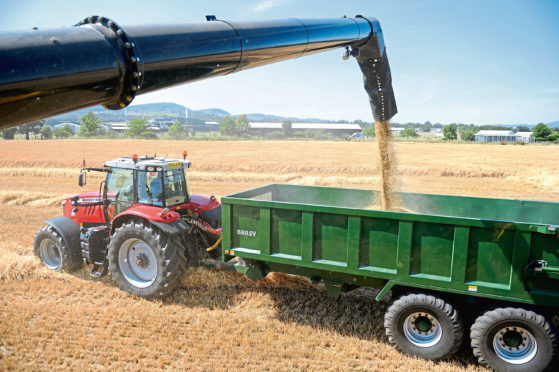 In her monthly column Susan Webb, director of public health for NHS Grampian, offers advice on keeping your lungs healthy
Harvest brings with it a number of pressures: long hours, weather worries, tariff concerns and, this year, Brexit.
With all these things going on it is not surprising we don't always think about what might be happening to our lungs.
Chest problems may result from breathing in dust from harvesting or handling grain, mouldy hay or bedding, or vapours from slurry, silage or disinfectants.
Exposure for just a short period may cause unpleasant irritation or inflammation in the nose, throat or lungs.
Longer exposure may lead to more serious lung diseases including asthma, chronic bronchitis/emphysema (known as COPD) or farmer's lung.
Each condition can be serious and may mean you need to stop work, or even shorten your life. So it is worth protecting your lungs.
The advice is simple. If possible, work with less harmful substances or by containing or removing the hazard.
Dry crops adequately before storage and by ensuring good ventilation during storage.
Wear respiratory protection when handling stored crops, particularly if they have been stored damp and are likely to be mouldy.
There are many types of respiratory protective equipment that can protect you.
To help ensure you are protected, look for the CE mark to show the design has been tested to a recognised standard. Additional markings, such as FFP1, FFP2, FFP3 indicate the level of protection; the higher the number, the better the protection.
An FFP3 respirator is advisable if you are exposed to high levels of grain dust or mould spores.
If you need to wear a mask or respirator you need to ensure it fits properly. Most manufacturers provide written information, helpline, testing companies and suppliers who will help you get the best mask for your size and shape of face.
If you detect leakage around your face or your glasses steam up when you breathe out you should readjust the respirator as you are not protected.
Remember to store them in a clean, dry place and not hang them from hooks or nails in dirty dusty areas, and discard disposable respirators at the end of the shift.